---
Welcome to our Cape Town Living Tips
December 2017

Dear all,
As the year draws to a close, we want to send you our festive season's greetings and our best wishes for a happy and prosperous new year. We wish you all the best for all your endeavours for 2018.
This year has been a rocky one for many of us, but light is on the horizon. The last days have brought some welcome news. The ANC has voted for Cyril Ramaphosa to head the ailing national party. Not only many South Africans but many around the world seem to be excited about these news and the reform talks within the party. A strengthening Rand which is so vital for the South African economy is a great first positive sign - although maybe less for those who earn in foreign currency.
May the new year bring the positive change we all anticipate so much and the signs for improvement surely are there. Regarding the ongoing challenges, we all need to work together harder and regardless of our faiths, racial or ethnic backgrounds or beliefs. Let's simply join in a season of goodwill and spread the message of love and peace wherever we are and wherever we come from.
The water scarcity at the Cape has certainly made us all humble as we realise our world's precious resources that we take for granted are depleting. Please help spread the message that we all have to save water as we all need it, money does not help when the dams and boreholes run dry! So save now before it's too late. We are now at Level 6 water restrictions. This means that also businesses are now forced to cut down on water usage significantly, water rationing through extreme pressure reduction and limiting supply has been experienced. It is strongly advised to keep up to 5 litres of water for essential use for drinking and food preparation, but please do not store excessive amounts of municipal water. We are all in this world together, we are rowing or sinking in the same boat!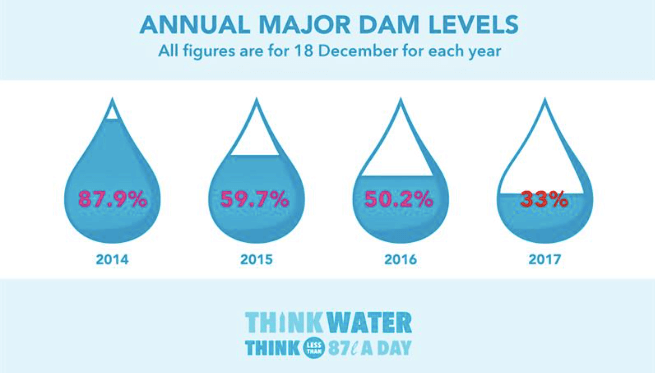 Let's all make it our resolutions for 2018 to open our eyes more, listen more and raise our voices more when we experience injustice and let's combat all the fake news with true knowledge and educate ourselves and others to fight ignorance, incompetence and corruption. Let's be strong and 'do the right thing' not just sometimes - because it's so comfortable to just be turning a blind eye - but always!
And as this is a time for reflecting on the achievements and count all our blessings, let us share some wonderful positive news with you. Our ExpatCapeTown blog has been listed among the top 50 Africa blogs in 2017 and our Facebook group is growing stronger and stronger, as we now have over 5,000 members. Many of you are sharing your insights and advise regularly and so selflessly. Thanks for your ongoing support and commitment!
* Thank you for reaching out with a helping hand also to the less fortunate in our communities. * Thank you for all your volunteer and charitable work which makes a huge difference to many. * Thanks you for your tolerance and mutual respect which means so much to all of us!
We all know that Cape Town is a beautiful city, and it certainly helps spreading the word! Cape Town has been elected again by various surveys as the one destination not to miss in 2018! So hope to hearing back from you and meeting up again with several of you and getting to know more newcomers to our group!
Now enjoy the festive season and have a great time and a wonderful end of the year in Cape Town or wherever you are!


Updates and News

This is what you will find in this ExpatCapeTown newsletter edition:

* All you should know: Visa News - PCC - Visitor Visa

* What's on in Cape Town: December and January events

* Typical Slang Words: mzansi and jol

* Cape Town Insider Tips: Know where to go when...



South Africa Visa News

We are happy to announce that from 1 January 2018, hardcopies of South African Police Clearance Certificates (PCC) will not longer be required, i.e. you do not need to apply for the PCC before applying for a temporary residency visa extension or application. The local VFS offices already started implementing the new biometric data capture at their offices, so no more hardcopies will be required in South Africa. The cost for the service is still R175, however, the usually longish wait for a PCC will fall away.

Please also note that no visa runs to neighbouring countries are possible for extending a tourist visa. This is a requirement that was implemented with the immigration regulations several years back, but still there seems to be confusion with many visitors as various border posts did unfortunately for a long time not handle this regulation with the required consistency. Visitor visa renewals can either be applied for locally at VFS offices, or one must return to the country of ordinary residence, i.e. home country, before coming back to South Africa. Then another visa will usually be granted. Short stays in neighbouring countries after a tourist visa will be frowned upon and a max. 7 days stay is granted. So please either apply for the correct visitor visa in your home country before coming to South Africa or apply for an extension as early as possible in South Africa. Pending applications are still a tricky thing, so one has to decide if to sit it out in the country - and remember that with a negative outcome one usually only has 7 days to organise the departure - or if one would better leave the country before the original visa expires. Overstays are now punished harshly with bans - not fines!

Remember also that when travelling with minors, you must take along the unabridged child birth certificates if leaving or entering South Africa. Also take note, that when only one parent is travelling with a minor, further documents such as an affidavit is required. Please have a look at these important family travel requisites explained in detail here:

What's On in Cape Town?
Enjoy an evening out at one of the many open-air Christmas carol concerts, a nativity play and festive season festivals. On our December calendar you will also find the latest additions to Cape Town's NYE events.
Events in December

Cape Town NYE Events

Events in January



Spread the Love - Help a Good Cause

Do you have some spare time on your hands, then you should consider supporting the SAYes foundation, a wonderful organisation working with youth in care homes. SAYes is currently looking for new mentors for their 2018 mentorship program, these mentors should be prepared to spend one hour a week with a young person, to help them through the most crucial transition stage from childhood to adulthood. Read more here:


Typical South African terms

What is mzansi? This Xhosa term refers to the 'South' and generally means 'South Africa'. It refers to all people living in the country regardless of race, beliefs or backgrounds.

What means 'jol'? An expression to describe a good party or a good time. 'Having a jol' means having a great time.
Expat Cape Town Insider Tips
Need a rental car? Whether looking for short-term or long-term rentals, give Raees a call and he and his team surely will make a plan for you: Motorent

Looking for fun activities for your young kids during the holidays? Check out our special page with lots of tips and activities for families with kids and teenagers. Cape Town kids activities for the school holidays


Do you want place an ad on our new business directory? Due to growing demand to place ads on our forum and on the website, we decided to use our wide expat network and help you promote your local business to the Cape Town expat community directly through our new expat directory. Check out our directory and contact us for your options and pricing. Looking forward to hearing from you! Expat Cape Town Directory


Do you need more info on living in Cape Town? Make sure to like our Expat Cape Town Facebook page and join our ExpatCapeTown forum - a Facebook group.
Take note: No ads in the forum allowed and please make sure to read our pinned post:-) Thanks!


Looking for a comprehensive South African expat guide in form of an e-book? If you want to give your foreign friends some more insights on South Africa, showing them why we all love living here, simply order one of our e-books for them. 'Living in South Africa' is available in .pdf and .epub form.

What's coming in the Next Newsletter?
Be surprised! ExpatCapeTown brings you the most up-to-date stories and insights on expat life in Cape Town. Just rest assured, that the next newsletter will provide more insights and more tips! In the meantime, please do not hesitate to come back to us on the website, on Facebook or on twitter and share your tips and insights, all kinds of comments very welcome! Contact us here


Enjoy your life wherever you are! Best regards,

Regina

w: www.expatcapetown.com t: @expatlivinginsa | #expatcapetown f: Expat Cape Town | LivinginSouthAfrica