Welcome to our Cape Town Living Tips
September 2018



Dear all,

welcome sunshine! The last weeks we luckily were blessed with plenty of rains and now we can look forward to the summer season with more positivity again. Of course, we all will need to continue to save as much water as we can but the worry that Cape Town's taps might run dry in the coming summer months is less acute - if we all stick to the water restrictions and continue to arrange for alternative water supply.

Amid the shocking figures in the South African crime statistics which state that 56 people are murdered every day in South Africa, we also received the news that South Africa's economy is in recession and business confidence is at the lowest since the last recession in 2009.

The falling Rand value will hit all of us who live and earn in South Africa, import costs will be so much higher and thus this affects living costs especially, with higher food prices as well as most probably increasing petrol and diesel costs from October.

After plentiful rains, the reservoirs supplying the city with water are filling up again. Now the dam levels exceed those from 2016, and water levels stand now at over 70%, which is really good news. The water tariffs which have been raised substantially earlier this year, will be slightly lowered from 1 October and water saving measures will be relaxed to 70 liters per person per day.


Water Dashboard City of Cape Town 17 September 2018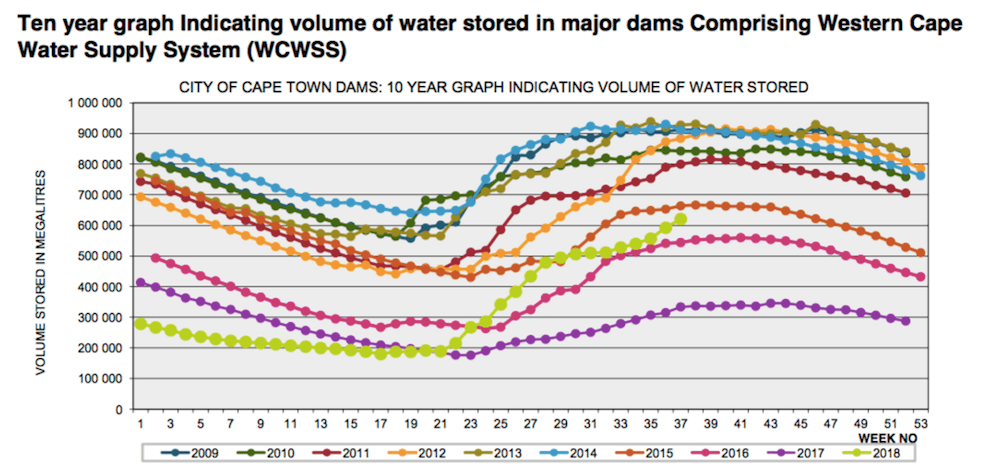 Water restrictions will go back to level 5 from 1 October, although the national department of Water and Sanitation initially objected to the City's relaxing of the restrictions. So please keep on saving as much water as possible and remember that the drought not only affects the regions around Cape Town, but several areas in the country. Extreme water situations are experienced in many municipalities, including Port Elizabeth, Richards Bay in the Eastern Cape as well as Swellendam in the Western Cape. Read more about the Water Restrictions Level 5
And a short reminder: The 50-litres-per-person-allowance (70-litres from 1 October only) refers to usage per day, whether you use water at home or out and about. Households with more than four residents are advised to register with the City of Cape Town to avoid penalties.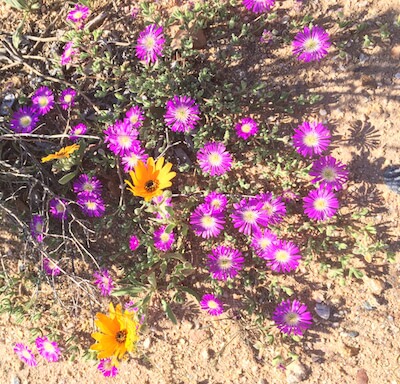 Now spring arrives with big steps, the rains are subsiding slowly and the multi-colour wildflower carpets in the Western Cape are in full bloom. Make sure to go on a road trip to do some flower spotting. A short trip out of town is certainly worth while the effort. We just have been back from a trip to the splendid Northern Cape and have been mesmerised again by the natural beauty of the landscape. The drought impacted on growth during the last two flower seasons, but now again the magnificent carpets of daisies and fynbos in bloom have returned to full splendour.
In South Africa, 24 September is a public holiday. Heritage Day is celebrated also as Braai Day. On this national holiday, which was first introduced in 1996 by Nelson Mandela, it is now a South African tradition to meet with your friends and celebrating your heritage and friendship while enjoying a good braai (the South African style barbecue). Numerous celebrations will take place around the city and many of Cape Town's museums will be granting free entry. Read on below what's on this Heritage Weekend in Cape Town.
Archbishop Emeritus Desmond Tutu, spokesman for the Heritage Day - Braai Day initiative said about this national holiday: "We're going to have this wonderful thing on the 24th of this month... when we all gather round one fire...It's a fantastic thing, a very simple idea. Irrespective of your politics, of your culture, of your race, of your whatever, hierdie ding doen ons saam ['we do this thing together']... just South Africans doing one thing together, and recognizing that we are a fantastic nation."
Now enjoy our newsletter and have a great time in Cape Town or wherever you are!
Updates and News

This is what you will find in this ExpatCapeTown newsletter edition:

* All you should know: Heritage Weekend in Cape Town

* What's on in Cape Town: September Events and October Events

* Cape Town Insider Tips: Know where to go when...



Heritage Weekend in Cape Town


In South Africa, the month of September is celebrated as Heritage month.

Although most South Africans will use the long weekend of September 22-24 for either a short getaway or a braai with family and friends at home, there is a lot happening in the city this weekend.

Here some events which are great for a day out during the Heritage weekend:

* Admire the brave swimmers who join the Heritage Day swim at Granger Bay from 9h00

* Take part in the Heritage Square celebrations from 16h00 - by HQ, Cape Heritage Hotel and others

* Join in the Heritage Day celebrations at the Waterfront Amphitheatre from 12h30

* Visit the Heritage Day Festival which takes place this weekend in Simon's Town

and so many other Heritage Day Events 2018


What else is on in Cape Town?

There are many events happening in Cape Town this spring as you will see on our ExpatCapeTown event calendar.

Events in September

Events in October


Have you ever experienced the flower fields in bloom along the West Coast during spring time? Find the best tips on where to find the best wildflowers.

The Cape Town public schools will be closed from 29 September to 8 October 2018. Please note, that private schools might follow different term calendars.

On our 'holiday activities' page, you will find lots of great events, shows and workshops to keep your youngsters entertained.

Find our School Holiday tips here


Spread the Love - Help a Good Cause
The Santa Shoe Box project is looking for helpers and sponsors of gifts they deliver to underprivileged children of more than 1000 facilities throughout South Africa and Namibia. Pledge your Santa Shoebox now and share the joy of giving. You can either pack a shoebox with some standard items for a specific child you pledge to support or pledge a virtual shoebox with your financial donation. Drop-off your shoebox at Canalwalk Shopping Center in Century City on 5 and 6 October 2018.

Expat Cape Town Insider Tips

On 29 and 30 September there will be two splendid sound and light performances in the reopened Cape Town City Hall. The classical music concert, the "Last Night of the Proms" is conducted by Richard Cock. Last night of the Prom 2018


On 22 and 23 September 2018, many roads in Cape Town will be closed due to the annual Cape Town marathon. Plan any trips wisely and enjoy the vibe. Read more here: Cape Town Marathon 2018


Do you need more info on living in Cape Town? Join our Facebook group and make sure to like our ExpatCapeTown Facebook Page Take note: No ads in the forum allowed and please make sure to read our pinned post:-) Thanks!



If you need more tips on settling in South Africa, order our e-book or the original soft copy version of our expat guide: 'Living in South Africa' and find out why we love living in this beautiful city. Our 'Living in South Africa' expat handbook is filled with practical tips and the e-book is available in .pdf and .epub form.



What's coming in the Next Newsletter?
Be surprised! ExpatCapeTown brings you the most up-to-date stories and insights on expat life in Cape Town. Just rest assured, that the next newsletter will provide more insights and more tips! In the meantime, please do not hesitate to come back to us on the website, on Facebook or on Twitter and share your tips and insights, all kinds of comments very welcome! Contact us here


Enjoy your life wherever you are!

Best regards,

Regina

w: www.expatcapetown.com t: @expatlivinginsa | #expatcapetown f: Expat Cape Town | LivinginSouthAfrica