A very warm welcome to the ExpatCapeTown Newsletter in October 2010.

Are you looking for some great Cape Escapes for the weekends? In Spring the Cape nature is in full bloom and the many activities you can do outdoors here are so tempting that staying indoors becomes almost impossible and for some of us the silly season has already hit home;) Well, the sunny weather and great attractions on the city's doorsteps make it even easier to enjoy living in South Africa's Mother City!
By the way as many of you will have noticed, I am currently restructuring some parts of my website. Thanks for all your lovely input and comments. They really keep me going to sit still for some moments:) If you are interested to share some of your experiences, please ask for an expat interview here . All your comments are very much appreciated. So please bear with me and thanks a lot all your efforts!

This is what you will find in this issue of the ExpatCapeTown Newsletter:
1. Hot Tips for Travelers and Expats: The best Cape Escapes for great weekends
2. Event of the Month: German Cultural Weeks
3. Inside Cape Town: Living in the Cape Quarter
4. Typical South African: sangoma and pap
5. Cape Town Insider Tips: Know where to go…?


Hot Tips for Expats and Travelers: Great Cape Escapes
In Springtime, the sunny weather invites us to enjoy the great outdoors. There are so many places to discover around Cape Town, that you will be spoilt for choice and may have a hard time to decide where to go first. Here are my favorite Cape Escapes to do in Springtime:

• Visit the West Coast Nature Reserve and relax at peaceful Churchhaven beach near Langebaan. Either stay on one of the houseboats moored in the turquoise lagoon or stay in one of the whitewashed cottages in Paternoster.

• Go for a weekend in the Cape Winelands and enjoy hiking in Jonkershoek Nature Reserve near Stellenbosch or in the Helderberg Nature Reserve near Somerset West. Stay in one of the Wine Estates and enjoy lovely food in beautiful surroundings.

• Enjoy whalewatching in Hermanus. There are many B&Bs right along the coastal road leading to this popular resort town. Or visit the various pottery and crafts shops in Kleinmond which is only a 30 minute drive from Strand and Gordons Bay. There are lots of great beaches for the whole family in False Bay and now is the time you are very likely to see some of the giant whales bathing in the warmer Indian Ocean waters too.

• Drive to nearby Franschhoek and have a relaxing weekend in the lovely wineland town. Enjoy walking down the village soaking in all the beautiful sights, arts and crafts and relax in the many fabulous streetside cafes or fancy restaurants.

• Drive out to the Cederberg National Park and go hiking and admire the stunning rock paintings at numerous sites. So worth the longer drive! Stay at the fabulous Bushmanskloof Resort or in one of the cottages on various camps. Or just take your tent and watch the sparkling nightsky.

More about our recent trip to the Cederberg Nature Park.

• Last, but no least: Have a great day out and cycle the easy 19km long Mountainbike Track in Koeberg Nature Reserve on the West Coast. Take a picnic and see colorful birds, zebras and giant turtoises up close. Nearby Melkbosstrand is popular with surfers and families and it is easy to do have a short break away from the hustle and bustle of the city.



Event of the Month: German Cultural Weeks
Join the celebrations of 20 years of German Unity and Freedom in South Africa. The festivities will bring many concerts, talks and discussions, film screenings and art exhibitions to Cape Town.

There are a lot of other events for every interest too. Christmas Markets start taking place at various venues and make sure not to miss the great annual German School Fete which takes place for this year on Saturday, 6 of November 2010 and surely will be a hit not only with Germans in Cape Town, but also all Capetonians and Cape Town expats from all over the world again who will love the vibey atmosphere and huge beer tent, wine bars, kids acitivities and much more.

More about the German Cultural Weeks here.




What is on in Cape Town in October and November 2010?


Events in Cape Town in Oktober 2010

Events in Cape Town in November 2010



Living in the Cape Quarter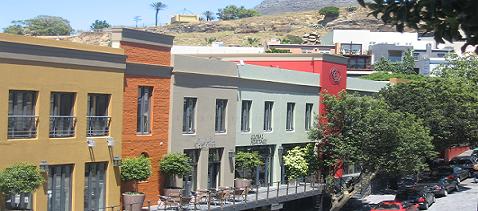 In this section you will find every month insiders' tips and advice about one of the many suburbs of Cape Town. So you know where to stay and where to go. This month I choose to bring you some more info about living in the Cape Quarter which is a central suburb.

Why the Cape Quarter? It is young, hip and vibey. This central part of Cape Town is located in walking distance to many of the Mother City's attractions. The Cape Quarter is currently being restructured and the new Cape Quarter shopping district with its many boutique shopping and entertainment facilities is a sure favorite of young professionals in Cape Town.

Where to stay? Housing ranges from new apartment blocks, smaller renovated townhouses to very upmarket lofts and penthouses with georgeous views over Table Bay. Accomodation is more expensive in this area than in the suburbs further down the Seaside due to the proximity to the City Center.

Where to go? There are many coffee shops, bars, restaurants and entertainment and shopping facilities in the area with the Old and New Cape Quarter Shopping centers being at the heart of the district. You will also find many international delicatessen shops and smaller designer homeware shops in the area.



Typical South African terms
What is a sangoma? You will find the sangomas or traditional healers in the Townships where they still treat the locals with their herbal medicine, throwing bones, interpreting dreams and counseling. They perform traditional rituals and are believed to heal through their connection with the spirit world of the ancestors. By the way, sangomas still outnumber western doctors in the rural areas of South Africa.

What is pap? Pap is a traditional porridge made out of maize meal and is the staple dish with the black population in South Africa. In SA slang Pap can also mean "weak", "exhausted"" or "broken" like in: "Ag men, this is pap" or "I feel really pap".


Cape Town Insider Tips
What else? Have you tried these…?
Where to get stunning beads? At Kaqala Trading in Willowbridge Shopping Center in Durbanville you will find great glass, plastic and wooden beads as well as metal beads, some of which are even nickel free. So if you are into beading, this is the place to go to. Great handmade beads and wooden crafts and gifts as well.
Where to buy homemade pasta? Go to Giovanni's Deli in Greenpoint for authentic Italian delicatessen. There you will get delicious cured meats and yummi fresh bread too.
Where to get a new bike? Try the Cycle Factory Store in Montague Gardens at Spearhead Business Park which imports and services quality bikes at very competitive prices. We got our bikes there and their friendly services can be highly recommended.

What's coming in the Next Newsletter?
As ExpatCapeTown wants to bring you the most up to date stories and insights, please be patient and let me surprise you with more great news about the Mother City.

Just be assured, there will be lots of more great tips and advice, so be sure to subscribe my newsletter and take a look at my website which is ever expanding.

And please come back with more great tips from your site, all kinds of comments very welcome! Contact me here.

Have a great time in Cape Town or wherever you are!

Regina