Cape Town Wildlife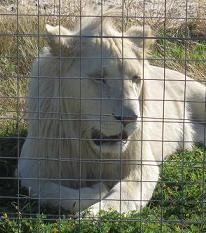 What about Cape Town Wildlife? Are there wild animals in Cape Town roaming the streets? This is a recurring question we get asked when telling people that we now live in South Africa.
Maybe you have been wondering also if there are lions roaming the nature reserves around Cape Town?
Then you should read here my Cape Town wildlife viewing tips to see which wild animals in Cape Town you are most likely to encounter:
All about Cape Town Wildlife
Where to go to see…
• Chacma Baboons: They can be spotted from the Parking on top of Sir Lowry's Pass near Somerset West or along the coastal roads from Simons Town to Cape Point or around Tokai Forest. In some residential areas in the Southern Suburbs of Cape Town especially around Tokai and Simonstown the residents have to be careful to have baboon latches on their bins and windows.
• Penguins: These cute animals can be seen in Simons Town at Boulders Beach and at Kogel Beach near Betty's Bay. At Boulders you can swim in the warm lagoon and splash in the waters while the penguins bath right next to you. Beware of sea urchins along the boulders, my little one just made painful acquaintance with these little sea creatures there. And be careful when moving your car when staying in Simonstown as sometimes the little African penguins love to hide underneath your car.
• Cape Mountain Zebra: Cape Point Nature Reserve is a great place to spot all kind of African wildlife. There are free roaming ostriches, springboks and other antelopes like kudus roaming freely in the park too. Zebras can be seen also roaming the nature reserve around Koeberg Power Station near Melkbosstrand.
• Whales: You do not have to drive out to Hermanus to see the huge mammals splashing in the water, in the season ( May to November) you can spot them along the False Bay and the Atlantic Coast too. We have seen them from Blouberg Beach even! Good spots are also Misty Cliffs driving from Simonstown towards Kommetjie, Boulders Beach and Fish Hoek.
• Dassies: Also called Rock Rabbits or Rock Hyrax. These cute little mammals with their big black eyes can be seen in Table Mountain National Park and at Cape Point. They live in bigger herds, so if you see one, wait there are usually many more to come.
• Snakes: If you are keen to spot some of the world's deadliest snakes, the Cape Cobra or the black Puff Adder, you should head out to West Coast National Park. When we visited the park, we always saw one of the big snakes crossing the road or by the roadside. Just be careful and do not approach them, better take a picture from the safety of your car.
• Flamingos and pelicans : Try Rietvlei Nature Reserve between Milnerton and Tableview for birdwatching. You can access the reserve from Pentz Drive off Blaauwberg Road and enter at the Aquatic Club. There are some great birdhides from where you can watch the flamingos and pelicans as well as the abundant birdlife, but beware of the snakes which live in the reserve too.
• Giant Tortoises: See them in the Tygerberg Mountain Reserve near Durbanville in the Northern Suburbs, where you can find really huge example of the turtles roaming freely.
• Ostriches: They roam freely in Cape Point Nature Reserve, but you can visit West Coast Ostrich Farm and Cape Point Ostrich Farm too where you can learn about these giant birds.
• White Lions: Fortunately not free roaming, but well secured behind high fences are these beautiful creatures at Vredenheim Wine Estate. Head out to Stellenbosch and listen to Willie's tales about the white lions who live in the spacious enclosures. There are also blue wildebeest, elands, zebras and ostriches on the grounds of the wine estate.
• Cheetahs: If you are keen to touch the fastest cats on this planet, you should pay the Cheetah Research Center at Spier Wine Estate in Stellenbosch a visit. You will learn why these species is kept at the enclosure and be able to come in close contact with the wild cats.
Cape Town Wildlife Viewing Info: Other big game can only be seen at the Safari or Game Parks near Cape Town like Aquila or Sanbona, which are roughly a two-hours-drive from Cape Town.
If you like to travel up to Kruger National Park or go on safari in South Africa, read my


ExpatCapeTown Safari Tips.

See some stunning safari pictures here.


Did you enjoy reading my guide about Cape Town Wildlife?
You can get more great Cape Town Insider Tips, when you subscribe to my free monthly ExpatCapeTown Newsletter here.