Blaauwberg Beach - Blouberg Beach
Kitesurfer Paradise in Cape Town
Blaauwberg Beach is one of Cape Town's Top Attractions.
The view of Table Mountain from the white sandy beach is one of the most photographed sights of the Mother City.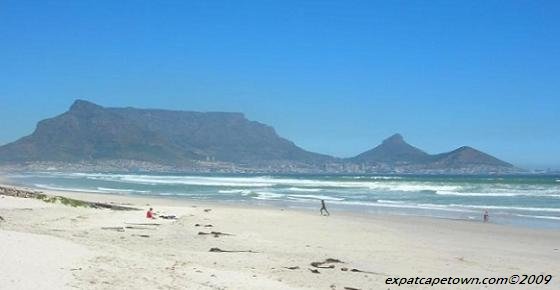 Blaauwberg Beach and the suburbs have got their name from the view of Cape Town's landmark, which the first Dutch settlers to the area named aptly: Blaauwberg or Blue Mountain, hence also the more simplified name: Blouberg.
Blouberg Cape Town has got a seemingly endless beach. You can walk from the Milnerton Lagoon which is 10km to the South all along up to Melkbosstrand and even further north. On the weekends you will meet plenty of beachgoers during all seasons, but the beach is wide and it never feels crowded.
Blouberg beach is very popular especially on weekends when there are some street vendors with African and crafts or ice-cream and pancake stalls are opening along the seaside parking. There is plenty of parking spaces and you should be able to find a nice spot where to leave your car.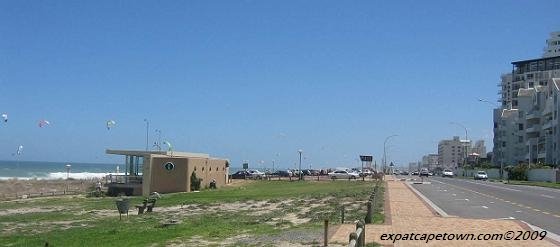 There is an Cape Town tourism information centre located at the Dolphin Beach end of the beach where you can get information on accommodation and events in the area.
At Blouberg Beach there are some amenities, like public toilets and childrens playground but there are no showers. However the popular resort is in an upgrading process, as there are many facilities in construction and some five star accommodation is currently being built too.
Best places in Blouberg Beach
• Safe swimming: At Blaauwberg Beach it is best to go to Big Bay and the little cove at Small Bay. • There is a new lifesaver's club and good facilities located at Big Bay. Blouberg is applying for the blue flag status in 2009.


---
Read more about Cape Town's other Blue flag beaches here.

---
• Beach walks: There is a long promenade going from Dolphin Beach up to Bloubergstrand and after leading through a small rocky beach area further up to Big Bay. Along the promenade there is a metal and wooden climbing frame and swings for smaller kids with plenty of space for picnics close to the Visitor Center in Blouberg Beach. Beach walkers and joggers love this beautiful beach which is amazingly wide at low tide. Check the tide times here.
• Bodysurfing and Kitesurfing: Blouberg Beach, especially Dolphin Beach is very popular with body surfers and kite surfers from all around the world, as there is almost always a mighty breeze blowing to keep the surfers entertained.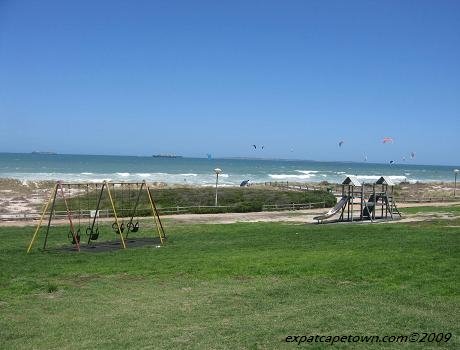 • Playing ball games and picnics: Enjoy the huge lawn area between Dolphin Beach and the Tourism Information Centre. Take a ball and have fun fooling around.
• Kids Play Parks: Swings and Climbing Frames are located near the Tourism Information Center and at Small Bay, where there is a kids' playground and a sheltered cove for safe splashing in the ocean.
• Hungry or Thirsty? There are plenty of great places to have an ice-cream or coffee or cold drink in the area. One of our favorite restaurants "Blowfish" at Dolphin Beach has got the best sushi in town and at Small Bay you should watc the splendid African sunset from the very popular Blue Peter Hotel and Restaurant
Enjoy checking out this amazing beach and have fun at Blaauwberg Beach!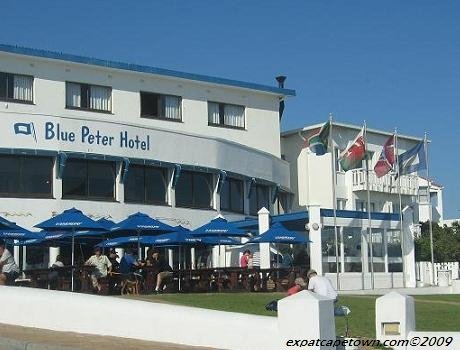 ---
Back from Blaauwberg Beach to Blouberg Cape Town Page

Return from Blaauwberg Beach to ExpatCapeTown Homepage