A very warm welcome to the ExpatCapeTown Newsletter
Dear all,
Can you believe it is only seven weeks to year's end? This year passed by in a flash! It was a remarkably busy and challenging year for us personally, but also a successful one. Our expat guidebook 'Living in South Africa' is available as 2015 e-book version and our website is growing steadily although we certainly also felt the impact of the new immigration regulations which were introduced last year. Many of you have experienced challenging situations as well, especially those who planned their stay or newly arrived in the Mother City and those who are still in the process of finding their feet and setting up their new life in the country. Others who live here for many years struggled with the economic slowdown and decrease of the South African currency as well as new legislation and changed immigration and travel regulations. Luckily, part of the visa regulations was amended again recently. There was a huge sigh of relief felt in the tourism sector, as you will read below.
Settling in a new country as well as starting any new venture is certainly never easy, and moving to South Africa and navigating South African bureaucracy requires certain virtues besides your professional skills and experience: Integrity, patience and persistence. You need to organize your new daily routine, often with an unsettled family in tow, manage your insecurities and culture shock, work through occasional unexpected power cuts and water shortages, avoid areas riddled with criminal activities, protest action and striking taxi drivers, struggle with disgruntled officials or postal workers and know where, when and how to organize visas and permits, and above all deal with misinformation and red tape which is kind of omnipresent. Quite a challenging undertaking, isn't it!
However, living in Cape Town has not lost its appeal, certainly not for many of us. Cape Town is the place to enjoy life with all your heart and soul! South Africa recently has been named among the top profession migration countries and ranks by net migration numbers on 6th place worldwide - this after the UAE, Switzerland, Saudi Arabia, Singapore, and Germany. More people are returning to South Africa or immigrating to the country than are leaving the country, according to the newest data published by LinkedIn, the world's largest social media site for professional networking!
As mentioned before, we now have released the updated 2015 version of the 'Living in South Africa' expat guide book - now as e-book available in pdf/epub form- and are expanding our website and social media activities to keep abreast of rapid changes while providing meaningful information and facts. The growing expat community joining our Facebook group shows, that with a positive attitude and reliable information, while learning from other expat's experiences, the many challenges can be handled with more ease. A huge 'Thank You' to all who are active in our Expat Cape Town forum! It is wonderful to see that so many of you share your experiences and knowledge so generously and compassionately. Your support is very much appreciated!
Please continue sharing your ideas and tips while we will persist to bring you regular updates and great tips about expat life in Cape Town.
Now enjoy our newsletter and have a great time in Cape Town or wherever you are!

Updates and News this November
This is what you will find in the November ExpatCapeTown newsletter edition:

* Latest immigration regulation amendments and news regarding birth certificates

* What's on in Cape Town: Christmas markets, concerts and other events

* Typical South African: 'gatsby' and 'baggies'

* Cape Town Insider Tips: Know where to go…?



Table Mountain as seen from Eden on the Bay in Big Bay/Blouberg

Latest Immigration Regulation Changes

In October, the minister of Home Affairs, Mr Malusi Gigaba, announced several changes to the much-criticized immigration regulations that were introduced in 2014. The new amendments were welcomed by the tourism sector, which suffered significant loss of more than 7% revenue in the sector between September 2014 and May 2015 and even bigger losses through the introduction of the requirement to carry unabridged birth certificates for travelling minor, which came into effect in June this year.

The recently amended visa rules will affect predominantly tourists and short-stay visas and mainly for visitors from China, India, Russia (whose arrival numbers declined reportedly about 80-90%. Visitors from these countries will soon be able to apply for visas via certified consultants, and additional visa facilitation centres will be implemented in various countries as well.

Another important change is that inbound visitors from visa-exempt countries who travel with minors do not anymore need to carry an unabridged birth certificate when entering South Africa and the relationship with the travelling child can be confirmed. When the child is not travelling with the parents this can be done also via parental consent in form of an affidavit, however, if the minor is travelling alone a birth certificate must still be provided. In the next three months, the parental consent affidavits shall be extended to be valid for 6 months. However, for outbound travel of minors and for South African citizens carrying the birth certificate is still required, but it is planned that a new passport with parental data will be issued in the near future.

Further welcome changes will affect business travellers, as the Department of Home Affairs will consider a multi-entry visa (up to three years) for business travellers and academics. These changes, however, are expected to only come into effect within the next three months.

What will stay the same: Applications for temporary visa extensions for visitors will continue to go through VFS Global in South Africa. Be aware that the appointment scheduling is working on a pre-payment system, thus make sure to pay the requested fee several days before your appointment. Any visa renewal must be applied for at least 60 days before expiry. Further be aware that students, internship candidates as well as spouses/life partners will need to apply for the specific work visa or endorsement and are not allowed work on a visitor visa, if without specific endorsement.

Persons who overstay their visa will be declared as 'undesirable persons' and will be banned from re-entry for a period of 1 to 5 years. Make sure to know the exact validity dates of your visa. Under certain circumstances, appeals can be lodged.

Should you have any queries regarding your specific visa application, please contact an immigration specialist such as IBN who is highly recommended by many expats in our group.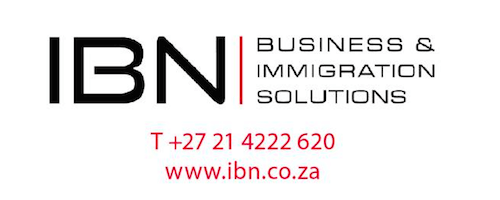 What's On in Cape Town?
There are many events happening in Cape Town this festive season as you will see also on our ExpatCapeTown event calendar.

Cape Town Events in November

Cape Town Events in December

Contrary to what many people from the northern hemisphere expect, we also celebrate Christmas in style. Special community events and charity drives are held, houses are decorated and a festive or holiday atmosphere is noticeable everywhere. Remember most offices and businesses close from mid of December to mid of January for their annual break, although some shops might be open even on Christmas day. You will find that summer time is a great time to stay in the Cape and of course, it's also the time for visiting Christmas markets and enjoying Christmas carol concerts. Further there are also lots of open-air summer concerts and festivals taking place in the run-up to the year-end holidays. Remember also that Wednesday 16 December is a public holiday, Day of Reconciliation.

So do not forget to check out our special pages on:

Cape Town Christmas Markets

Cape Town Christmas Concerts



Typical South African terms
What is a 'gatsby'? This is a bread roll sliced lengthwise and filled with steak or Cape Malay curry, potato chips and lots of spicy tomato or masala sauce. This is a Cape Town specialty and best sourced in the Cape Flats, but also great gatsby are available at Mariam's Kitchen in St Georges Mall Arcade in the CBD.
What means 'baggie'? This typical surfer slang word is used as a term to describe swimming trunks or board shorts. Be sure to know this word when meeting your mates at the beach.
More South African Slang Words


Cape Town Insider Tips
Do you long for a luxurious weekend break out of town? Enjoy the scenic 90-minute drive through the Cape Winelands to the Robertson Wine Valley. Visit boutique wineries, take a boat trip on the Breede River, stay at the luxurious Robertson Small Hotel & Spa - book one of the four amazing pool suites – and enjoy a delicious gourmet dinner at 'Reuben's' and return refreshed to Cape Town. Pure bliss!
Are you looking for locally produced high-quality arts and crafts? Make sure to head to the V&A Waterfront, where the more than 150 stalls at the bright yellow 'Watershed' building next to the Cape Town Aquarium offers a wide variety of stunningly beautiful crafts, locally created clothes and fabulous hand-made gifts. The Watershed is open daily from 10h00 to 18h00.
Do you want place an ad on our new business directory? Due to growing demand to place ads on our forum and on the website, we decided to use our wide expat network and help you promote your local business to the Cape Town expat community directly through our new expat directory. Check out the new directory and contact us for your options and pricing. Private sales and offers will be placed for free. Looking forward to hearing from you!
Click here to go to our Expat Directory
Do you need more info on living in Cape Town? Make sure to like our new Expat Cape Town Facebook page and be informed of new events, new expat related businesses and read more great news about the Mother City. On the new Facebook page you will find interviews, reviews and interesting reading to make your stay in Cape Town even more enjoyable. Plus this is another place to post your personal housing and job search ads.

What's coming in the Next Newsletter?
Be surprised! ExpatCapeTown brings you the most up-to-date stories and insights on expat life in Cape Town. Just be assured, that the next newsletter will provide more insights and tips! In the meantime, please do not hesitate to come back to us on the website, on Facebook or on twitter and share your tips and insights, all kinds of comments very welcome!

Enjoy your life wherever you are! Best regards,

Regina

w: www.expatcapetown.com t: @expatlivinginsa | #expatcapetown f: Expat Cape Town | LivinginSouthAfrica