A very warm welcome to the ExpatCapeTown Newsletter

Dear all,
Happy Heritage Day! Enjoy a splendid day in Cape Town and experience a typical braai with your international and South African friends. There are many exciting events taking place this week as you will read below.
Still new in Cape Town? Then join our Facebook group and make new friends. Our Expat Cape Town facebook group has grown tremendously over the last months and the next milestone will be reached soon. Thank you for sharing all your insights and tips which help so many newcomers to this beautiful city.
And we want to thank you also for your kind support in regards to our guidebook 'Living in South Africa' which has been received very well by the international expat community, local and international companies and universities as well. The South African book fair has been a huge success and our practical expat handbook is now available country wide as well as in many bookshops overseas. You can get the book at Exclusive Books, Bargain Books, CAN, Wordsworth book shops, the German bookshop in Burg Street, Treasures4U in Paddocks, Baraka in the Cape Quarter and many other stores.
Please keep sharing your ideas and tips while we will bring you more great tips about expat life in Cape Town on our blog and in this newsletter. To get further information on expat life in South Africa, make sure you subscribe also to our new 'Lekker Living in South Africa' newsletter as well and join the forum to be always up-to-date.
Enjoy and have a great time in Cape Town or wherever you are!
This is what you will find in this newsletter:
* Regulations regarding travel with children you should know?
* What's on in Cape Town: Heritage Week
* Typical South African: 'braai' and 'jol'
* Cape Town Insider Tips: Know where to go…?



Travel with Children
Here a quick recap on the major changes regarding immigration: On 26 May 2014, new immigration regulations were introduced in South Africa. Visa applications, as such also study visa for children, will not anymore be handled directly by the offices of the Department of Home Affairs in South Africa as VFS Global was appointed to establish and manage a call centre for the Department of Home Affairs to assist clients with relevant enquiries and applications.
In case a family with school-going children moves to South Africa, all the family members' first time temporary visa including applications for study visa must be made at the foreign mission in the country of origin or where the applicant permanently resides. Extensions, renewals and change of status and first time application for study permits when the child lives here with a temporary permit already, can be effected in South Africa.
General changes relating to travel with children have been introduced in May 2014, but will come into effect only in June 2015. These regulations affect foreigners as well as South Africans when travelling with children.
- Parents travelling with children under 18 years of age, have to provide an unabridged (full) birth certificate to Immigrations at border control when arriving in South Africa or leaving the country. This is in addition to the legal requirement of children having their own South African or foreign national passport when travelling into or out of the country.
- Persons who accompany children must provide a certified letter of permission by both parents or they have to provide a death certificate of one of both parents.
- Teachers or sports coaches accompanying a school or sports tour must provide a certified letter by the school or club stating the purpose of travel with children.
- Unaccompanied minors have to provide a certified letter of consent to travel by both parents.

Read more about the new regulations here.


What's on in Cape Town?
Wednesday 24 September is a public holiday, Heritage Day. So for many of us, another lovely long weekend is ahead of us. Remember that many schools close for Spring holidays for a week or two at the end of the month as well.
There is a lot going on this September and October in the Mother City, as you will see also on the ExpatCapeTown event calendar.
Read more on great events during:
Heritage Week

Cape Town Events in September

Cape Town Events in October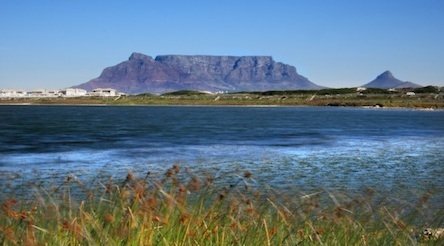 Table Mountain as seen from Rietvlei Nature Reserve in Table View



Typical South African terms
What is a 'braai'? A 'braai' is the South African equivalent of a 'barbeque' or BBQ. Popular food on the braai are boerewors (farmer's sausage), steaks and 'mielies' (corn)

What mean 'jol'? An expression to describe a good party or a good time. 'Having a jol' means having a great time.


More South African Slang words here.

Cape Town Insider Tips
Do you love living in South Africa? Join our new Facebook group 'Living in South Africa', post your photos and share your insights. Also please have a look on our new website which shall bring you lots of information on moving to, working and living in South Africa.
Join the our new group here and click 'Like'.
Want to meet new friends? We are currently trying to arrange a special ExpatCapeTown trip for all interested to meet new people and gain new insights. We want to organise a 'Township Arts Tour' to Khayelitsha, please contact us, if you would like to participate. Looking forward to meeting you!
See some great free exhibitions at the V&A Waterfront? Visit the MOCAA pavilion at the Waterfront and learn more about the upcoming museum complex which is currently being built at the old Grain Silo and which will be another highlight at the popular Cape Town Waterfront. Read more about the MOCAA here.

What's coming in the Next Newsletter?
As ExpatCapeTown wants to bring you the most up to date stories and insights, please be patient and let me surprise you with more great news about the Mother City.

Just be assured, there will be lots of more great tips and advice, so be sure to subscribe my newsletter and take a look at my website which is ever expanding.

Please come back with more great tips from your site, all kinds of comments very welcome! Contact me here.

Remember, if you need some advice urgently or want to share some amazing experiences, it is always a good idea to get in touch with the many friendly expats in our Expat Cape Town forum on Facebook. Make sure you join and feel free to ask your questions regarding moving to or living in the Mother City. There is always someone there to share insights and experiences and get you the info you need.

Regina