A very warm welcome to the ExpatCapeTown Newsletter in January 2010
and a happy and prosperous New Year to all of you.
The new year has started slowly with some great hot summer days and wonderful outings to enjoy the Cape Town attractions.
Summer concerts, picnics and lazy lunches at the Cape Winelands. Swimming with the penguins or hiking on Table Mountain. Lots to enjoy with the family while the kids were on school holidays.
This week the new school year started for my kids and this is a new adventure for many expat families who just moved here.
There are many things to consider when choosing a school in Cape Town or really anywhere in the world. The private school education in Cape Town is excellent and for a change affordable here in South Africa, while there are still many good local state schools to be found.
More about the education in Cape Town
Now that the daily routine will dominate your weekdays, you will want to make use of the gorgeous South African summer on the weekends and get out and about to enjoy the best the Cape offers.
If you are looking for great places in the winelands where the whole family can relax from the stresses of the week, you will find some useful tips in this newsletter with some info on where to experience truly South African atmosphere in some of the best South African wine estates.

This is what you will find in this issue:
1. Hot Tips for Travelers and Expats: Visiting great Cape wine estates around Cape Town
2. Event of the Month: Soccer Festival at Cape Town Stadium
3. Inside Cape Town: Living in Tamboerskloof
4. Typical South African: now-now and rooibos
5. Cape Town Insider Tips: Know where to get…?


Hot Tips for Expats and Travellers: Cape Wine Estates
Some of you asked me where there are some great Cape wine estates where the whole family can relax? I mean wonderful wine estates in the Cape Winelands around Cape Town for your weekend outings.

Here I will give you some info on lovely estates in the Cape winelands around Cape Town.

• Nitida: on the Durbanville Wine Route M13. Enjoy some time out in the rolling hills near Durbanville. Spacious and lots of safe playing area for kids and delicious food you will find at this wine estate easy to reach from the Northern Suburbs or Blouberg. There is a lovely country market every last Saturday of the month where you can stock up on great wholesome food for the weeks to come.

• Blaauwklippen: off the R44 south of Stellenbosch. If you want some relaxed time out, head out to the student town of Stellenbosch. After a stroll through lovely Dorp Street, drive out to Blaauwklippen Wine Estate where the food is wonderful, the kids can play in the playgroud next to the magical outdoor setting, roam in the gardens or go on a tour in a horse-drawn carriage.

• Seidelberg: on Suid Agter Paarl Road R44 below Paarl Mountain. Enjoy the lovely wine and great food at this spacious winery with magic views across the Paarl and Stellenbosch countryside. The food is traditional Cape Malay cuisine, but they offer some lekker fusion food too. And make sure you visit their wonderful glass gallery with workshop. There is an old tractor for the kids to play on and a small play frame.

• Vergelegen: near Somerset West on Lourensford Road close to the Helderberg Nature Reserve, which is worth another visit too;). The Vergelegen wine estate has got a lovely setting and huge garden with a wonderful serene picnic setting in the midst of a small forest. The picnic baskets will be provided and there is plenty of space even for the smaller kids to get interested in the different garden settings. The bamboo forest, hortensia alley, rose garden and many other niches invite for great hide and seek games. There are really good tours around the mansion too.

• Groot Constantia: The closest wine estate to Cape Town is easily reachable via the M3 and Constantia Main Road M41 or the M63 and M41 from Hout Bay. You will have amazing views over the Constantia wine valley and there is lots of space for kids to run around. The manor house offers insights into the glory of the original inhabitants of this estate and outside in their waterpools there are some rare South African frogs to be seen too.

More about the Cape Winelands here.

Event of the Month: Opening of Cape Town Soccer Stadium
Now is the time to get in the mood for the great event of 2010: Soccer Fever is hitting Cape Town.

The new Cape Town Stadium at Greenpoint is now finished and this month there will be the official opening ceremony.

This Cape Town event will be a treat for the whole family too. Not only Cape Towns two local soccer teams Ajax and Santos will play a friendly match, but also Cape Town's local stars "Freshlyground" will perform their newest song during the stadium opening ceremony. So take your vuvuzelas and makarabas along and enjoy the festive mood at the new stadium.

More about the new Cape Town Stadium

What else is on in Cape Town in January?

More great events and shows in January 2010.


Living in Tamboerskloof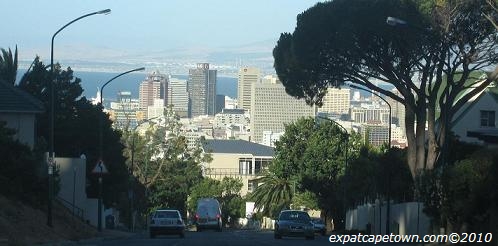 In this section you will find every month insiders' tips and advice about one of the many suburbs of Cape Town. So you know where to stay and where to go. This month I choose to bring you some more info about living in Tamboerskloof where many expats choose to live. Tamboerskloof and neighboring Oranjezicht house some of the best schools in Cape Town and the feel of this suburb is quite an international one.

Why Tamboerskloof? Still quite safe due to highly visible and mobile guards, the CBD is close by, only a five minute drive, great schools, sports facilities and international grocery shops in Tamboerskloof and adjoining Oranjezicht.

Where to stay? Here you will find many Victorian gems, some in need of quite a bit of restoration work, but there are many huge newer houses and apartment blocks on the slopes of Lion's Head. There are some really good hotels in the area, like the Milner Hotel. You can also find cheaper accommodation and budget travel accommodation lower down in Long Street.

Where to go? Hike up Lion's Head Mountain or have spendid views just from any of the higher lying road or from Kloof Nek. This is a quiet neighborhood with no other big tourist attraction than the Table Mountain and the surrounding mountains, but you will find some lovely restaurants and coffee shops in this multicultural suburb and the views over Cape Town are just stunning.

Where to do your grocery shopping in Tamboerskloof? In Kloof Street you will find smaller shopping centers and many international specialty stores and restaurants. There are several delicatessen in the area and if you like artisan breads you should head to "Dinkel" bakery up on Kloof Nek Road.



Typical South African terms
What means "now now"? In South African slang this expression of time means that something needs to be done immediately. If you tell somebody that you need you something done right away imply the urgency by doubling the "now" and say you want it done "now now". Especially if somebody replies that the matter is dealt with "just now", be sure to put some pressure on;) as this usually only tells you the matter will be dealt with some day, maybe never.

What is rooibos? This word is Afrikaans and means "red bush". Here the needles of the red bush are used for Red Bush Tea which you can find in many different brands and tastes in local supermarkets and health food stores. Have you ever tried Red Cappuccino? It looks like the Italian coffee specialty and the locals swear it tastes even better than the real thing.

Some interesting facts about rooibos.

Cape Town Insider Tips
What else? Have you tried these…?
Where to see African penguins? Either you find your way down to Simonstown's Boulders Beach or you drive out to the splendid Stony Point near Betty's Bay, which is just a 60 min drive from Cape Town. There are less visitors and more penguins to see. So make sure to watch the cute little penguins at these stunning beaches.
Where to eat the best steaks in town? Try Balthazar's at the V&A Waterfront. Their steaks are great and the service is good. Plus you can enjoy the views over the Cape Town harbour.
Where to buy South African hand woven rugs? Head to North Gate Islands Estate at the N1/M5 Koeberg interchange. At the Kraal Gallery you will find stunning handmade rugs in all shapes, sizes and colors. All the rugs, bags and masterful tapestries are created by local talent.

What's coming in the Next Newsletter?
As ExpatCapeTown wants to bring you the most up to date stories and insights, please be patient and let me surprise you with more great news about the Mother City.

Just be assured, there will be lots of more great tips and advice, so be sure to subscribe my newsletter and take a look at my website which is ever expanding.

And please come back with more great tips from your site, all kinds of comments very welcome! Contact me here.

Have a great time in Cape Town or wherever you are!

Regina