A very warm welcome to the ExpatCapeTown Newsletter in February 2010.

Cape Town in February means celebrating love and live in the Mother City is in full swing. The lovely summer days help to feel really comfortable on this side of the world.
This month you will not only be spoilt by your loved ones you will be able most evenings to enjoy the summer without a hauling Cape Doctor wind.
So what is better than enjoying the amazing setting of many a seaside café or treating somebody special for a romantic dinner in the Mother City?
And you can escape the midday heat when visiting shady parks like Tokai Forest, the Tygerberg Reserve or fabulous Kirstenbosch Gardens.
More about Kirstenbosch Gardens in Cape Town
However there is not only love in the air, judging by the recent outcry in the foreign media regarding the topic of security in South Africa. Prejudices prevail in many articles about crime in South Africa and the safety of visitors especially in the light of the upcoming Soccer Worldcup.
So let's clarify some things and put your mind at ease in this edition of my newsletter where you can read more about this issue which is on every expat's mind when moving here whether with the family or alone.

This is what you will find in this issue:
1. Hot Tips for Travelers and Expats: How to stay safe in Cape Town
2. Event of the Month: Spanish Dance Show: Viaje Flamenco
3. Inside Cape Town: Living in Constantia
4. Typical South African: bergie and indaba
5. Cape Town Insider Tips: Know where to get…?


Hot Tips for Expats and Travellers: Cape Town Safety Tips

There is a lot of discussion on the internet about the general safety of visitors and locals; especially during the upcoming Worldcup 2010 in June.
Some companies will try to sell you anything for your safety in Cape Town from bullet-proof vests and alarm buttons to stun-guns and pepper sprays. But is it necessary to put up such extreme measures?
So let me tell you from my "Expat in Cape Town" point of view.
I think there is no need to invest in bullet-proof garments or self-defense weaponry in Cape Town. Use your common sense, this is what you always should do not only when travelling or living abroad. And learn about your new environment beforehand. Become and act streetwise in your new surroundings.
So here are some safety tips for you to help you become more streetwise and make your time in Cape Town enjoyable and positively memorable.
• Know the areas you visit: Nothing can beat being prepared and proactive when it comes to crime. Know where you can go and where not by using good guidebooks, advice from locals and guides and do not just drive anywhere because you think all roads will lead to town. So learn about the safe areas in Cape Town in my suburbs guide and let friends or the guesthouse know where you plan to head out to, maybe they can also give you some advice about the area you plan to visit too.
• Be careful when going out at night: Know that Friday nights and Saturday nights are the most dangerous times for being on the road in Cape Town or for being mugged in the CBD but the higher incidence or crime rates during these nights are an occurrence worldwide too! Avoid drunken people and only walk along well lit, populated and secured areas.
So have a fun night out, remember not to drink and drive! And leave your expensive jewelry at home. Try to take out money from the ATM before the night out and have a watchful eye on your surroundings when using an ATM.
• Make use of a safe deposit: Do not flash your gold and diamonds about, leave your most precious pieces at home or deposit them in a safe. Hotels, lodges and guesthouses in South Africa usually offer a safe in your room or a safe deposit facility at the reception. And put your travel documents in there; only take your id card or drivers license with you when out and about. And do not leave your bags with anyone if you do not get a proper deposit slip/form for that matter.
• Involved in an accident?: There are luckily hardly any hijackings on Cape Town's roads unlike in some other areas in the country. So do not drive off and do not flee the accident scene, but ring the police instead. Have emergency numbers stored on your cellphone.
So if you are involved in an accident, make sure you get the other driver's details, do not just note the telephone number of the car or the number plate. Try to get witnesses. Usually Capetonians are very helpful and supportive and will stop whenever they can help you. Either call the police right away or in case of a minor incident get in touch with the local police and get a case number for the incident. You will need it for any insurance claims.
• Use an Alarm System: Invest in a good alarm system to sleep protected at night. This is a normal safety feature nowadays in most of the private houses and guesthouses in Cape Town as well as in European cities or actually in most cities around the world as well.
If your home is not situated in a security estate, check out if there is an active neighborhood watch system in place in your area. And how about investing in a good outdoors alarm system like boundary defence or sensors, if you do not like the look of burglar bars. There are plenty of alternatives as deterrents like installing a palisade fence which is normal in my home-country too instead of the high walls. Burglars do not want to be seen entering your property!
So you really do not need to become paranoid, just be streetwise!

More safety tips for Cape Town

Latest South Africa Crime Statistics 2009: Annual SAPS Report about Crime in South Africa (968KB)

Event of the Month: Viaje Flamenco
If you like Spanish Dance like me, then the Rosa Dance Company who is presenting their new Flamenco Show "Viaje Flamenco" is the event to see.

This journey through the history of Spanish Flamenco Dance is in celebration of their 20th anniversary of Cape Town's own La Rosa Spanish Dance Theatre.

More about La Rosa Spanish Dance Theatre


What else is on in Cape Town in February?


More great events and shows in February 2010.


Living in Constantia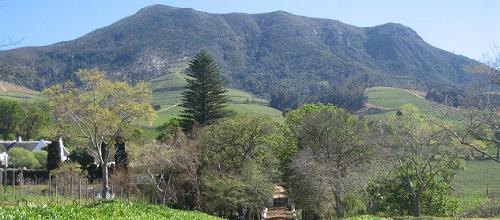 In this section you will find every month insiders' tips and advice about one of the many suburbs of Cape Town. So you know where to stay and where to go. This month I choose to bring you some more info about living in Constantia where many expats choose to live. The American school and embassy are located there and several of Cape Town's best schools are to be found in the area.

Why Constantia? Leafy and green it feels like being in a different world. Spacious mansions and safe estates make this suburb a favorite with the well heeled portion of the population. Many foreigners choose the quiet lifestyle of the Constantia Valley where Cape Town's oldest wine estates are located. Visitiors to Cape Town will treasure the peaceful surroundings and the georgeous views over the sprawling southern suburbs and False Bay from many guesthouses.

Where to stay? Here you will find many mansions with lots of fine living space and huge gardens, older Victorian gems, newer housing estates and townhouses in the Constantia Valley. There are some expensive but extraordinary guest lodges and hotels in the area, like the famous Cellars Hohenort. You can find here good guesthouses and B&Bs in the Constantia Valley too.

Where to go? Visit the Constantia Valley Wine Estates. Take a bike ride in Tokai Forest. Or just enjoy fabulous food at some of the Cape's best restaurants. There is the much praised relaxed dining at the Spanschemaat River Café, the award winning La Colombe at Constantia Uitsig and Simon's at Groot Constantia, just to name a few excellent choices. And if you long for a day at the beach, the white sandy beaches of False Bay or Hout Bay are just a twenty minute drive away.

Where to do your grocery shopping in Constantia? If you do not want to shop at the huge Contantia Village Mall, there some smaller shops located in this leafy suburb. And if you want to take a break why not stop for a café au lait at the French bistro restaurant "Pastis" at the High Contantia Centre.



Typical South African terms
What means "bergie"? This South African expression describes a person who lives on the streets. Bergies are visible all over town with their belongings packed onto a trolley and begging for money at the robots. The term originally referred to the homeless people living in the suburbs around the Tafelberg/Tablemountain.

What is an indaba? This word comes from the Zulu expression meaning "business" and is in the Zulu and Xhosa culture a meeting to discuss important issues. Therefore the "Indaba2010" is Africa's largest travel and tourism exhibition which is held annually in Durban. This year the event will take place from May 8-11, 2010. More than 1,600 exhibitors are expected this year.

In Cape Town this month the "DesignIndaba 2010" will take place at the CTICC, where more than 260 exhibitors from many business sectors are expected to participate and show their creativity in innovative designs.


Cape Town Insider Tips
What else? Have you tried these…?
Where to get superb fish and chips? Locals swear by a Take-out of freshly fried fish and chips at Kalkies in Kalk Bay. You will have a hard time to find fresher and more crispy fish and chips in South Africa.
Where to eat great sushi in Cape Town? The Capetonians like to eat their fish fresh from the sea and sushi is a firm Cape town favorite with locals and expats alike. Try either the sushi bar at Willoughby's or Balducci's separate dining area at the Waterfront or try famous Haiku or my personal favorite Blowfish when out in Blouberg.
Where to buy imported American groceries? The local supermarkets especially Pick and pay offer many American brands and for health food try Wellness Warehouse or the various shops in Constantia Village Shopping centre.

What's coming in the Next Newsletter?
As ExpatCapeTown wants to bring you the most up to date stories and insights, please be patient and let me surprise you with more great news about the Mother City.

Just be assured, there will be lots of more great tips and advice, so be sure to subscribe my newsletter and take a look at my website which is ever expanding.

And please come back with more great tips from your site, all kinds of comments very welcome! Contact me here.

Have a great time in Cape Town or wherever you are!

Regina