British comedian Martin Davis in Cape Town
London Calling
Comedian Martin Davis is starring in a new Cape Town show.
The press release I just got in promises a great comedy night out when seeing the comedy show "London Calling" in Observatory/Cape Town: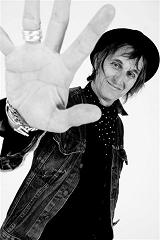 "Martin skids and bounces across the stage, strung up and tugged around by unknown forces, firing off a relentless rapid-fire assault that hits every corner of the room and kills 100% of all known hecklers stone dead.

Going where mere joke-tellers fear to tread with his characteristic kamikaze bravado ("Go on, heckle me") he walks the razor edge of audience participation, daring them to pick him off it.

With enough nervous energy to power a small city, he is able to warm up the chilliest rooms and turn the stoniest punters into soft putty in his hands."
And the reviews by people who have recently watched his comedy shows are raving. Read some raving reviews of his latest shows in Durban here.
So be sure, this is one of the best Cape Town events in August and September you should not miss to experience.
Who is Martin Davis?
The UK comedian Martin Davis, 53, is an acclaimed comedian and has a strong and dedicated following all over Britain.
Martin appears in exhilarating shows at the Comedy Caf and So Ho Ho in London, and performs regularly in top UK venues including The Comedy Store and The Stand.
He is one of most popular British Stand-up comedians who has made appearances all over the world. He has performed in Singapore, Dubai, Holland, Belgium, Jakarta and South Africa.
His South African gigs of his one man show in Grahamstown and Ratanga Junction were quickly sold out. In Durban and in Cape Town he had comedy acts at The Cape Town Festival, The Smirnoff Mule Comedy Festival and the South Africa Comedy Festival.
However Martin's talents don't stop on stage. With several years of acting experience behind him, he has appeared in BBC television productions and a variety of foreign adverts and has numerous private and corporate clients throughout the world.
See the Comedy Show London Calling
Where? Obz Café Theatre in 115 Lower Main Road, Observatory, Cape Town
When? 19,20,22,23 August and 2,3,5,6 September at 8:30pm
How much? R40. The show is not suitable for persons under the age of 18 years! Booking via Tel: 021 448 5555 (Obz Café)
Source: DivaPR



Other great Cape Town Events in August

Return from Martin Davis Cape Town Show to Homepage