Diamond Fever in Namibia
Germans in Luederitz in Western Namibia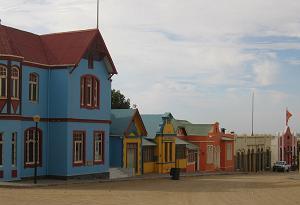 Diamond Fever hit Namibia already in late 19th century and brought loads of German expats to the Southern African shores.
In Luederitz you still can see many houses built in the German colonial style like these buildings to the right.
Here you find an excellent article about the Diamond Rush which was generously supplied to ExpatCapeTown by Cav. Andre Martinaglia:
The existence of large diamond deposits along Namibia's barren coastline had long been suspected, going back to 1863, when a Cape Town company negotiated with a local Nama Chief a concession to explore a 30 kilometre strip north of the Orange River.
They found nothing. Only half a century later when an ex-Kimberley labourer, Zacharias Lewala, came across a glittering stone whilst shovelling, did confirmation of the stones become a reality.
August Stauch - Pioneer in Namibia and the Diamond Fever
Born in a small village near Stettin in Northern Germany, August Stauch later joined an engineering firm that built railway lines and which was called the "Deutsche Kolonial-Eisenbahnbau- und Betriebsgesellschaft".
Stauch was sent to work on a railway line, that was been built through Pomerania region, when later he began suffering badly from asthmatic attacks. He eventually had to request a transfer to a dry warm climate in Namibia, where they had a commission to build a railway line at Luederitz.
In 1907 August Stauch said goodbye to his wife and two children and arrived in Luederitzbucht. He was immediately assigned the maintenance of the "Luederitzbucht–Aus" railway line, with the position of "Bahnmeister", having to supervise the desert sand cleaning off the railway tracks, which was a full-time work in itself.
Anyone else probably would have appalled the inhospitable landscape, but Stauch used it to explore the mighty sand dunes, applying eventually for permission to prospect. He also informed his workers to be on the lookout for unusual stones for him, which they did.
These men knew exactly what Strauch had in mind, as he had been employed earlier at the Kimberley Diamond Mine in South Africa.
Only two weeks passed, when Zacharia came to him with a glittering stone, saying: "Here is a pretty stone". Stauch took it an immediately tested it against his wristwatch glass face covering. "It must be", he stuttered with surprise.
More stones were found that were then sent off to the German Colonial Government Laboratory at Swakopmund, who also confirmed that these stones were in fact diamonds.
Stauch taking great care to keep his discovery secret pegged his claims, applying for discharge from his employer, obtaining at the same time a loan from two of the Directors. He then went and pitched a tent at one of his claims and prospecting for other diamonds began in earnest, which also proved to be a successfull operation, finding more diamond stones.
The town of Luderitz remained surprisingly very calm, when eventually the story did leak out, thinking Stauch was a dreamer. Had not our geologists already examined the area without success?
On the 20th of June 1908, August Stauch showed his findings to the Swakopmund branch of the Deutsche Kolonialgesellschaft, which started a stampede of people heading for the diamond fields.
The telegraphic office was flooded with telegrams imploring the Company to issue prospecting licenses to them. Some were on horseback, with wagons and on foot, businesses were locked as well as shops and offices. The diamond rush was on. Diamond Fever had hit the town.
Diamond Fever: Diamond Fields in Namibia
Stauch was busy on further explorations. He had founded a company called "Koloniale Bergbaugesellschaft", which was used to prospect for diamonds and unearthing gemstones.
One day Dr. Scheibe arrived from Germany representing the "Gibeon Schurf und Handelgesellschaft" who were continuing explorations in that region of Namibia. He decided however to join Stauch. Well equipped for this venture, they made their way to the Pomona area, which Stauch subsequently named "Idatal"(Ida Valley) after his wife.
On New Years Eve, Stauch set off on horseback with a sea-chart to try and plot their exact position. When he returned he told his Herero servant, who was gathering firewood at the time,to look for diamonds. Scarcely on his knees, his Herero servant began picking up so many diamonds in the sand, that he eventually was stuffing them into his mouth. The diamonds lay as thick as plums under a plum tree. Dr. Scheibe was speechless! He could only mutter continguily ,the words: "Ein Maerchen, ein Maerchen!"(A fairytale, a fairytale!) Stauch became a millionaire overnight.
Further discoveries were made in the Bogenfels area, and later Conception Bay.
Between 1908 to 1914 about 5 million carats of diamonds were mined in the desert sands, to the value of more than 17 Million South African Rand.
Some companies declared dividends of 3,800 percent on capital invested.
When the First World War broke out, all diamond prospecting and operations ceased. After the war however diamond operations continued in various diamond mines.
The newly formed company (Consolidated Diamond Mines of South West Africa which was later renamed) CDM and which also built the town of Oranjemund, made millions of South African Rand in profit. (The CDM was transformed in the early 1990 into Namdeb Diamond Corporation).
Since 1973 it had earned R147 million annually. 90% of the stones found there are high quality gemstones. It is providing the controlled diamond sales of the world with 20% of all its diamonds.
Did you enjoy this article about the Diamond Fever in Namibia? Then please read on...
More interesting History Articles here

Go from Diamond Fever to Germans in Cape Town

From Diamond Fever back to ExpatCapeTown Homepage