Spanish Film Festival 2009
Fabulous Spanish Movies - not only for the Spanish Community in Cape Town
The annual Spanish Film Festival is coming to Cape Town again and will be showing some great Spanish films.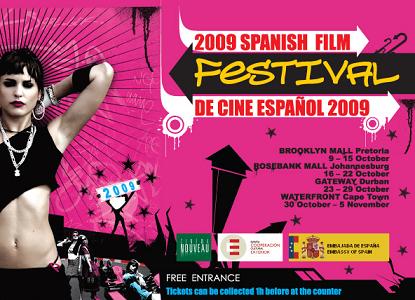 The V & A Cinema Nouveau is showing seven different Spanish films on their screens for the Cape Town audiences:
Which are the 2009 Spanish Film Festival Films?
• Chaotic Ana (Caotica Ana) (2007): This film was selected for the European Movie Awards 2008 and is starring Charlotte Rampling, Bebe and Asier Newman.
• Mataharis (2007): got the Goya Award 2007 for best script direction
• The Zone (La Zona) (2007): Best opera prima at the Venice Fim Festival 2007
• Obaba (2005): Received the GoyaAward for Best Sound Movie 2006
• I am the Juani (Yo soy la juani) (2006): Goya Awards 2007 for Best Novice Director Bigas Luna
• A Franc 14 Pesetas (Un Franco 14 Pesetas) (2006): starring Isabel Blanco and Carlos Iglesias
• Under the Stars (Bajo La Estrellas) (2007): Best Movie, Best Director, Best actor at the Malaga Film Festival 2007, starring Alberto Sanjuan
The films all were either nominated or received at the various Film Festivals like the Festival of Malaga and the Goya Awards and "Obaba" even went to the Oscars in 2006 to represent Spain.
So come and see some really great films at the V and A Waterfront cinemas from October 30 – November 5, 2009.
The tickets to the festival are available one hour before the screening.
Programme of the Cape Town Festival:
View the dates of the screening for these Spanish Films on the cinema Nouveau program here:
Do you want to know more about the Spanish Community in Cape Town, then please contact the Spanish Social Club in Cape Town and join Noches Latinas on facebook.

Do you like to get other great Cape Town Insider Tips?
Then subscribe to my Cape Town Expat Blog and my monthly ExpatCapeTown Newsletter with lots of great tips and links on living in Cape Town.
Back from Spanish Film Festival to Cape Town Events in October

Return to ExpatCapeTown Homepage