A very warm welcome to the ExpatCapeTown Newsletter
Dear all,
The second quarter of the year is coming to its end and we trust you enjoyed the really sunny and dry autumn days this year. We had a busy couple of months restructuring and redesigning our website which should be up and running within the next month. We trust you will love the re-structured site which will have all the useful tips as before but an improved navigation system to find the over 350 pages more easily.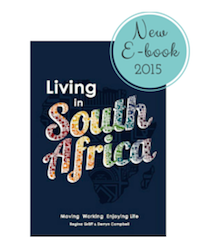 Our blog will still bring you all the updates and news, so if you are subscribed to our feed, you will always know first what's going on in Cape Town!
Our 2015 version of the 'Living in South Africa' expat guide book is as e-book available in pdf/epub form via paypal, so wherever you are in the world, our comprehensive and beautifully designed handbook will show you the way when planning to move to South Africa. Our growing Expat Cape Town forum is more popular than ever, we now have over 4000 members and it's wonderful to see so many of you sharing their experiences and knowledge so generously and compassionately. Thank You!
Please continue sharing your ideas and tips while we will persist to bring you regular updates and great tips about expat life in Cape Town.
Now enjoy our newsletter and have a great time in Cape Town or wherever you are!

Updates and News this June
This is what you will find in the June ExpatCapeTown newsletter edition:

* South Africa education and schooling facts you should know

* Do you need a car for long-term rental?

* What's on in Cape Town: June and July events and holiday activities for the kids

* Cape Town Insider Tips: Know where to go and what to do



Make sure to read through our education guide where you will find lots of tips for finding the best school for your child.

Do you need to find a car for long term rental?

Read where to find great long term car rentals and browse through many more driving tips for staying and keeping safe in Cape Town.

What's On in Cape Town?
There are many events happening in Cape Town this June and July as you will see also on our ExpatCapeTown event calendar. There are many events happening in Cape Town this winter as you will see also on our ExpatCapeTown event calendar. Make sure to visit the winter holiday events such as Winterwonderland in Somerset West or the Bastille Festival in Franschhoek and enjoy all the fabulous entertainment options Cape Town living offers.

Cape Town Events in June

Cape Town Events in July

Do you want to meet inspiring and like-minded people and enjoy a fabulous weekend away? Join the Third Best Marigold Weekends at Guinevere Farm in Tulbagh and take part in the various activities on offer, from exciting and fun Indian cooking lessons to relaxing yoga sessions. Contact Indian expat Gautami to learn more about her new cooking classes and do not miss watching her in the Justine Drake cooking show on BBC Lifestyle on 21 June 2016.

Typical South African terms
What are 'samoosas'? These traditional South Asian and Indian triangular pastry parcels are stuffed with a variety of vegetable or meat fillings and deep fried. They are usually eaten with spicy chilli sauce.
What is a 'sangoma'? This is a traditional healer using special rituals and herbal medicine. About 80 % of all black South Africans visit sangomas for physical, emotional and spiritual healing. Sangomas also perform important ritual dances and as the African traditions are associated with ancestor worship.
More South African Slang Words


Cape Town Insider Tips

Do you want to engage with inspiring business women Enjoy new networking opportunities when you join Voicesclub - for females only. Take part in the many events on offer, from workshops to expat dinner club meetings. Contact Shelley at Voices Club to learn more about the club and the fabulous new co-working spaces in Cape Town.
Have you ever been up and close to the penguins? Plan a scenic drive to Stony Point in Betty's Bay. You will reach the small town when cruising along stunning Clarence Drive which links Cape Town with Hermanus. There you can see the penguins waddle next to you on the boardwalk or spot them protecting their young penguin chicks. We have experienced this spectacle a couple of days ago and really enjoyed our outing. Betty's Bay is only a two hour drive from the city centre of Cape Town.
Do you want place an ad on our new business directory? Due to growing demand to place ads on our forum and on the website, we decided to use our wide expat network and help you promote your local business to the Cape Town expat community directly through our new expat directory. Check out the new directory and contact us for your options and pricing. Private sales and offers will be placed for free. Looking forward to hearing from you!
Click here to go to our Expat Directory
Do you need more info on living in Cape Town? Make sure to like our new Expat Cape Town Facebook page and be informed of new events, new expat related businesses and read more great news about the Mother City. On the new Facebook page you will find interviews, reviews and interesting reading to make your stay in Cape Town even more enjoyable. Plus this is another place to post your personal housing and job search ads.

What's coming in the Next Newsletter?
Be surprised! ExpatCapeTown brings you the most up-to-date stories and insights on expat life in Cape Town. Just be assured, that the next newsletter will provide more insights and tips! In the meantime, please do not hesitate to come back to us on the website, on Facebook or on twitter and share your tips and insights, all kinds of comments very welcome!

Enjoy your life wherever you are! Best regards,

Regina

w: www.expatcapetown.com t: @expatlivinginsa | #expatcapetown f: Expat Cape Town | LivinginSouthAfrica