A very warm welcome to the ExpatCapeTown Newsletter in November 2009.
The warmer Spring Days in Cape Town are something you should cherish and make the most of the windfree days and enjoy the splendid nature around the Mother City.
Cape Town's white sandy beaches are famous all over the world. Kite surfers and Watersports enthusiasts come here from all around the world to enjoy the warm climate and sunny days. Beachlovers and Sunbathers however often have to look for sheltered spots to enjoy the sun as the Cape Doctor often howls during summer time.

Read here where to find great windfree beaches.
Also check out Cape Town's Blue Flag Beaches. This year seven of the most beautiful beaches were praised as especially clean with great facilities and well managed and got the popular mark of approval.

More about the Blue Flag beaches in and around Cape Town.
Then there are so many other attractions and events in Cape Town you can visit, that you surely will find many a treat for you when visiting the Mother City during this time of the year.
Ever hiked up Lions Head or Table Mountain? Or maybe you want to take a ride up Cape Town's landmark with the Cable Car and enjoy their sunset specials during September and watch the glorious sunset from Table Mountain. Or drive out to the fabulous Cape Winelands or join a great South African cooking class?

This is what you will find in this issue:
1. Hot Tips for Travelers and Expats: South Africa Food Tips
2. Event of the Month: Captured by the Rainbow
3. Inside Cape Town: Living at the Waterfront
4. Typical South African: Cool Drinks and Stompies
5. Cape Town Insider Tips: Know where to get…?


Hot Tips for Expats and Travellers: South Africa Food Tips
As the weather gets warmer you will have to observe some more carefully some rules when eating out or preparing food. Here are my answers to the questions I usually get asked:

• Food Preparation Wash your hands thoroughly before handling food and always wash fruit and vegetables thoroughly and peel them if you want to eat them raw. Buy your fruit or vegetables from bigger stores as the turnover is quicker and therefore the food will be fresher or get your shopping done at the weekly fresh food markets.

• Cool box: Invest in a cool bag or cool box and take it along when you go food shopping. The temperature rises substantially in your car boot in the warm climate and your car can get very hot in the sunshine. So take care of your fresh food shopping and keep it cool until you can put it back in your fridge.

• Health Food You will find many health food stores in and around the Mother City. So if you have to stick to a certain diet, you should pretty much find what you are used from home as there are many international health products available in Cape Town.

• Eating out in Cape Town is pretty safe. If you plan to eat only in up-market restaurants, then you should not worry about the quality of your food. However eating out in smaller establishments has to be choosen carefully. With the heat and different spices your stomach often has to take time to adjust to the different food. And there are not many regulations in place and food inspectors only visit the food outlets sporadically. So be a bit more careful where you want to eat out.

• Hepatitis When you are eating out a lot, getting hepatitis vaccinations before you travel to Cape Town is always highly recommended. You should have at least two jabs before you come here in a four week interval and then another jab after six months. And you will not have to worry when you eat out although you still can get ill, but usually not as bad as without any jabs.

• Food Poising is still a sad occurance when food is not prepared up to standard and you will feel violently ill after taking spoilt food. Take lots of rest and stay out of the sun and try to keep hydrated. If dehydration occurs, contact a doctor or go to the nearest hospital.

• Drinks Be careful in bars and watch the barkeeper pouring your drink and do not leave your drink out of your eyes. In some places you have to watch out that your drink does not get spiked. And be careful about taking ice in your drink. Taking alcohol on the beaches in Cape Town is an offense. And do not drink and drive. The blood alcohol limit is 0.05%.


More information on Food in South Africa

Event of the Month: "Captured by the Rainbow"
Make a special note in your diary for this special event in November. Cape Town welcomes the very talented young students from the Netherlands Tabor Schools who will perform a unique musical with the famous Drakensberg Boys Choir from South Africa.

This international musical production based on a musical written by Edwin de Jongh intends to build bridges between different cultures and will show how Nelson Mandela's philosophy helped create the South African Rainbow Nation.

Get some special time with your family and enjoy this musical which promises to be a great Cape Town event this month.

What else is on in Cape Town in November?

This month it is also time for many festivals and Christmas Markets, like the Franschhoek Christmas Market until the 7 November or the Crayfish Festival in Paternoster on the 28 November 2009. And horse lovers will want to see the World Cup in Show Jumping in Hout Bay from 19.-22 November 2009 and cyclists should book their place in the Die Burger Cycle Race on the 29 November 2009.


More great events and shows in November.


Living in Cape Town at the Waterfront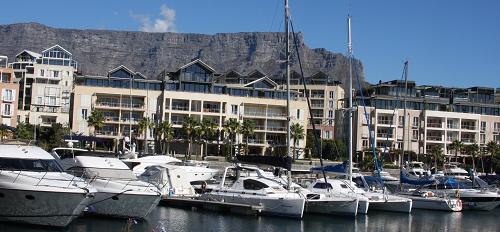 In this section you will find every month insiders' tips and advice about one of the many suburbs of Cape Town. So you know where to stay and where to go. This month I want to bring you some more info about living at Waterfront as more and more expats and tourists choose to live in the up market apartments close to the heart of Cape Town.

Why the Cape Town Waterfront? It is safe and central, near to lots of offices and many Cape Town attractions are right on your doorstep.

Where to stay? Excellent modern housing is offered in the Waterfront apartment complexes. There are many of Cape Towns Top Hotels in the area with the newest addition being Sol Kerzer's "One and Only" next to the Aquarium. You will enjoy great views over the Waterfront Marina from most of the apartments and hotel rooms. If you want to stay at the Waterfront when you come to visit a convention, there is easy access to the Convention center offered by watertaxis from the Waterfront and a safe walkway.

Where to go? The Cape Town Aquarium is a good place to start your city orientation tour. Hop on the Red Bus and get some introduction into Cape Town's main attractions with frequent stops and regular reliable service.

Another "must do" at the V&A Waterfront is a sunset cruise in Cape Town Harbour and the Table Bay. The views across the Mother City with Table Mountain in the background tinged in warm pink and orange colours is surely a must see when in Cape Town. The sunset cruises start around 18.00h - 18.30h at various locations around the Waterfront.

Where to do your grocery shopping at the waterfront? Your only options are the Pick and Pay and Woolworths at the waterfront with a good selection of fresh food. For bigger supermarkets with better prices you will have to find your way downtown or to Sea Point.


More info on the Cape Town Waterfront.


Typical South African terms
What is a cool drink? In South Africa a cool drink is just a fizzy drink, like a Sprite, Fanta or Coke. Nothing fancy it means usually just a can of a carbonated drink or lemonade.

What is a stompie? A stompie is a cigarette butt. Do not throw them out carelessly. It is fire season now with the hotter windy days making the risk for runaway fires really high.

A carelessly thrown-away cigarette caused a massive fire two years ago on Table Mountain, where one person was killed due to the recklessness of a smoker. Chucking out cigarette butts from car windows is a serious offense here. If you get caught or are seen by somebody you will be punished harshly. So please be aware of your environment and dispose of your stompie in a safe manner.


Cape Town Insider Tips
What else? Have you tried these…?
Ever seen the sunset from the top of Table Mountain? Enjoy the sunset special of the Table Mountain Cableway which is offering a huge discount for a return trip when you go up from 6pm. What a great opportunity to watch the beautiful sunsets over the Atlantic Ocean.
Where to spend a great day out in the Cape Winelands? Go out to Stellenbosch and enjoy the beautiful setting of the Vredenheim Wine Estate where you can also see five "White Lions" among the 18 lions in their Lion Park where you also can book a guided tour and presentation. They also have got South African game like Springbok, Bontebok, Eland, Zebra and Blue Wildebeest on their grounds. And the wine and food is delicious too.
Where learn to cook South African food from a top chef? Book a class with Cass Abraham or visit her Paarl Restaurant "Zomerlust". Cass' cooking skills are praised all around the world and she is happy to share some of her secrets with her students. Her class is very relaxed and you will enjoy some great wine with your food after the cooking course. Or just enjoy the delicious South African dishes when visiting her restaurant.

What's coming in the Next Newsletter?
As ExpatCapeTown wants to bring you the most up to date stories and insights, please be patient and let me surprise you with more great news about the Mother City.

Just be assured, there will be lots of more great tips and advice, so be sure to subscribe my newsletter and take a look at my website which is ever expanding.

And please come back with more great tips from your site, all kinds of comments very welcome! Contact me here.

Have a great time in Cape Town or wherever you are!

Regina