A very warm welcome to the ExpatCapeTown Newsletter in December 2010.

Christmas is almost here and the year 2010 comes to its end.
Locals, South Africans from all over the country, expats coming back home or coming from far afield as well as tourists are enjoying the festive holiday atmosphere which is obvious everywhere in the Mother City.
Are you looking how to spend Christmas in Cape Town or are looking for more tips on living in the Mother City during the festive season?
Then get some cool drink or eggnog;), maybe a mince pie or two and enjoy this edition. Here I will give you some ideas about where to go and what to do this Christmas in South Africa's Mother City.
This is what you will find in this issue of the ExpatCapeTown Newsletter:
1. Hot Tips for Travelers and Expats: CapeTown at Christmas
2. Event of the Month: "Night and Day"
3. Inside Cape Town: Living in Oranjezicht
4. Typical South African: jabulani and bunny chow
5. Cape Town Insider Tips: Know where to go…?


Hot Tips for Expats and Travelers: CapeTown at Christmas
This time I chose to answer some frequently asked questions. Here is what is on many an foreigner's mind at Christmas in Cape Town.

•Are there shops open during the Christmas holidays?

Christmas Day, the 25th of December, is the only day in the year all the shops are closed in Cape Town. Even on Christmas Eve many shops stay open late and on Boxing Day many shops, especially in the malls, are pretty much back to normal. However you will find some convenience food still at the petrol stations if you forgot to buy some of the basics as many shops there sell milk and bread too.

• Where to find a wind-sheltered beach if the South Easter is howling? Try the Atlantic beaches of Llandudno, Sandy Bay and Camps Bay as they are sheltered by the Twelve Apostles Mountain Range. And even Kalk Bay in False Bay is a quite safe option. Remember not to take alcohol on the beach as there are usually checks and fines if you do not comply.

• Any Cape Town restaurants which offer great food and service? Here are my favorite top ten restaurants

• What about safety in Cape Town? You will be safe here during the Christmas Holidays if you observe some rules and use your common sense. For more info please click on my special page here.



Event of the Month: "Night and Day"
This Cole Porter musical surely will be a great hit in Cape Town.

The dance interpretation of the fabulous musical "Night and Day" is featuring the Cape Town City Ballet and will open with its premiere on December 31. The show will run until January 9, 2011 at Artscape Opera House. By the way the show is directed by acclaimed dancer and choreographer Robin van Wyk.

So please go and support the international ballet troupe of Cape Town City Ballet which is featuring in this show also many renowned dancers from around the world.


What is on in Cape Town this holiday season?



More great Events in December 2010

More great events in January 2011



Living in Oranjezicht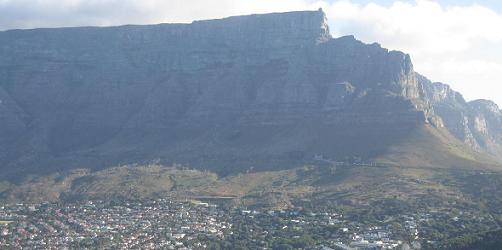 In this section you will find every month insiders' tips and advice about one of the many suburbs of Cape Town. So you know where to stay and where to go. This month I chose to bring you some more info about living in Oranjezicht, a Cape Town suburb on the slopes of Table Mountain.

Why Oranjezicht? This upmarket suburb is located close to the Cape Town CBD and most houses enjoy fabulous views over Table Bay. The private Cape Town Medi-Clinic is located in this suburb and some of the prestigious International schools like the German or French School are nearby too. But you will also find other excellent private schools like the St Cyprian's Girls School in Oranjezicht and many facilities for families with small children.

Where to stay? Housing ranges from grand old mansions to some new apartment blocks and town houses in gated estates. Security is good in the area and you will find plenty of amenities nearby. There is plenty of accommodation in guest houses and self-catering apartments available in Oranjezicht.

Where to go? There are many coffee shops, bars, fancy restaurants and boutique shopping facilities in the Upper Kloof Street area. You will also find many international delicatessen in Oranjezicht.



Typical South African terms
What means "jabulani"? This Zulu term means "rejoice". This is a great term to know not only at Christmas time as many of the soccer fans know who will have heard the word already. The official World Cup 2010 soccer ball was called "Jabulani" too. But my favorite expression to remember is coming from a popular South African gospel song which is called "Jabulani Africa".

What is a bunny chow? This typical South African food is a bread filled with Curry sauce and is especially popular within the Indian community. This dish is said to originate from Durban and is available at some fast food outlets in the City Centre and food stalls and shops in the Mother City.



More South African Slang words here.

Cape Town Insider Tips
What else? Have you tried these…?
Where to go to see fire works in Cape Town on New Years Eve? The biggest fire works display can be admired at the V&A Waterfront. Great atmosphere with musicians and entertainment all night long. And please be aware that private fire works displays are not allowed.
Where to hear great open-air concerts? Either enjoy the open air concerts at Kirstenbosch Botanical Gardens or drive out to Stellenbosch where the Oude Libertas Amphitheatre offers great concerts in a fabulous ambience. Not to forget the Paul Cluver Amphitheatre in Grabouw.
Where to see or buy stone carvings? For stunning stone carvings drive out to Red Hill near Kommetje. There you will find a huge sculpture park with soapstone and wood carvings which are created locally. Afterwards relax and enjoy the views and delicious food at the popular Farmhouse Cafe right next to the sculpture park.

What's coming in the Next Newsletter?
As ExpatCapeTown wants to bring you the most up to date stories and insights, please be patient and let me surprise you with more great news about the Mother City in the new year.

Just be assured, there will be lots of more great tips and advice, so be sure to subscribe my newsletter and take a look at my website which is ever expanding.

And please come back with more great tips from your site, all kinds of comments very welcome! Contact me here.

Have a Merry Christmas and a Happy New Year in Cape Town or wherever you are! All the Best Wishes

Regina