A very warm welcome to the ExpatCapeTown Newsletter edition for September/October 2013.

Dear all, here the so much overdue news. Thanks a lot for your many kind queries, friendly support and patience. Our guide book is now finally in at the last proofreading stage, so some great event will follow soon:-)
This year's winter has been really cold and wet, but spring is in here as nature shows us. Don't you love Cape Town when grey sky and winter rain turn into spring's blue sky and sunshine? Just driving into town during rush hour every morning is not so bad if you can admire all the colourful springflowers in bloom and the mood lifts instantly when you can see the azure blue sky over Table Mountain.
Most of us can look forward to a couple of days off work at the end of this month and many will spend a couple of days exploring the region for the long Heritage Day weekend or during the local schools 'Spring Holidays'. For those staying in town, life will be fun with lots of exciting events taking place in and around the Mother City over the next weeks too!
So enjoy this newsletter and have a great time in Cape Town or wherever you are!
This is what you will find in this issue of the ExpatCapeTown Newsletter:
1. Hot Tips for Travelers and Expats: Heritage Day
2. Event of the Month: Gun Run
3. Inside Cape Town: Living in Table View
4. Typical South African: The Braai
5. Cape Town Insider Tips: Know where to go…?


Hot Tips for Expats and Travelers: Heritage Day
Heritage Day on September 24 and since 2005 also known as 'National Braai Day' is a public holiday. Heritage Day is a day to celebrate the diversity of the South African people, their multicultural backgrounds, their various beliefs and traditions. Did you know, that September 24, was known before in KwaZulu-Natal as 'Shaka's Day' and was commemorating the Zulu leader?
Today a public holiday for the whole country, this is a day for getting together and enjoying the company of family, friends and celebrating the cultural heritage. Many use this day for the first braai of the season as a braai is always a great way of getting together.
Here are some great places to spend time on Heritage Day if you want to celebrate, meet new people and make new friends.
How about trying typical Braai food in buffet style? Then make your way out to Constantia and book a table at the family-friendly River Cafe.
If you enjoy the winelands, then drive out to Stellenbosch and join their Heritage celebrations. Watch the annual canoe challenge and celebrate with the locals.
Or cook up a storm and join the Potjiekos Challenge at Noordhoek Farm Village or if you are not that competitive and enjoy watching the fun, then book a place at one of the local restaurants.
Read more about great places for dining out here


And enjoy the early spring days in beautiful Cape Town!


Event of the Month: Gun Run
Have you ever participated in one of the many charity events in Cape Town? We recently did our first 'Blisters for Bread Walk', a charity walk starting at the Greenpoint Stadium and leading along the stunning Sea Point promenade, which is a must on next years list already.

This month, one of the best events promises to be the Outsurance 94.5kfm Gun Run which supports the work of the Anna Foundation, which is a non-profit organisation working with children in rural areas of the Western Cape. The run is open to all and entries for the 5km fun run can be done even on the day. There is the option to do the 5km, 10km or 20km runs, which however need registration until the end of this month. The vibe and atmosphere at this Cape Town run is stunning as we experienced last year already. So we definitely will do this again! Maybe see you there?!

How to enter?

More info on the Gun Run here.



And do not forget to check out the many events in my

Events Calendar September 2013
Events Calendar October 2013


Living in Table View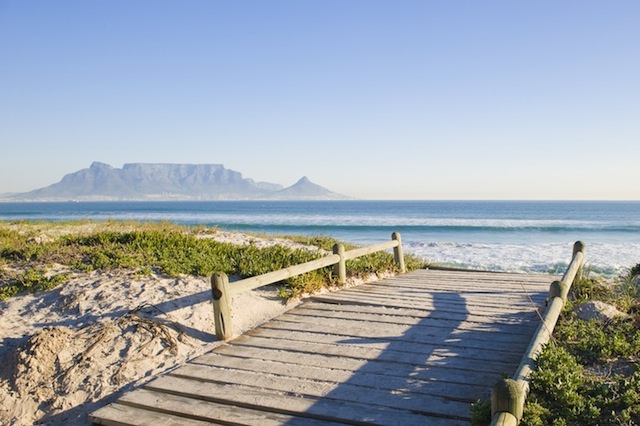 In this section you will find every month insiders' tips and advice about one of the many suburbs of Cape Town. So you know where to stay and where to go. This month I chose to bring you some more info about living in Table View.
Why the Table View? True to its name the suburb offers stunning views of Table Mountain as you can see in the picture.
Table View is located a mere 20 minutes drive north of Cape Town CBD and is easily reached by car via the R27 coastal road. But beware, the traffic into town during rush hour is better to be avoided. However, if you work in town, you can use the BRT (bus rapid transit) and the daily ride into town on the special bus lane will be a breeze.
In Table View, you will find plenty of excellent amenities, the Blouberg Netcare Hospital is just along the R27 and the Mediclinic Milnerton is in close by. There are numerous medical centers and shopping facilities are plentiful in the area, from tiny boutiques to family shopping centers such as Bayside and TableView Shopping Centre with many retail chain stores.
Where to stay? Housing ranges widely from cluster homes and free standing houses to gated estates and apartment buildings. The area is very popular with families as there are various excellent private schools in the vicinity too, such as Elkanah House, Parklands College or Blouberg International School, Christian Brothers College or Cape Town Studies and Tours.
Where to go? There are many restaurants and coffeeshops in the area, most of them concentrated in the shopping areas. If you want to go experience a true Italian dinner, the . If you enjoy walking along the beach, the beachfront offers some lovely paths and the new cycle path linking Table View with the CBD is worth a ride with the whole family.



Typical South African terms
What is a typical South African "braai"? This is the South African equivalent to a barbecue and is very popular pastime for many locals. On a typical braai you will find boerewors and shish kebabs, which are similar to satays, with chunks of meat and vegetables on skewers. South African love to braai whatever the weather. Many houses have covered braai places on the patio, so even rain does not hinder them to enjoy the fun!

If you ever have come across town name changes in South Africa and were stunned, these will make you smile. To read what Ian Braai, the 'father' of the National Braai Day initiative was up to in the run up to this years 'Braai Day', click here.


More South African Slang words here.

Cape Town Insider Tips
What else? Have you been there yet…?
Where to go for a great day out this weekend ? How about the whale festival in Hermanus? Around one hundred Southern Right Whales have been spotted in the bay in recent days. The whale festival attracts visitors from near and far with a huge variety of events, from educational talks to market stalls or simply admiring the huge seamammals frolicking in the bay.
Where to find the most delicious macaroons in Cape Town? Try Daniela's Deliciously Decadent macaroons at the Cape Quarters. They have the delicious sweet pastry rounds in over 25 flavours and always fresh at their counter. You can also preorder your favourite taste. Visit them here.

What's coming in the Next Newsletter?
As ExpatCapeTown wants to bring you the most up to date stories and insights, please be patient and let me surprise you with more great news about the Mother City.

Just be assured, there will be lots of more great tips and advice, so be sure to subscribe my newsletter and take a look at my website which is ever expanding.

Please come back with more great tips from your site, all kinds of comments very welcome! Contact me here.

Remember, if you need some advice urgently, it is always a good idea to get in touch with the many friendly expats in our Expat Cape Town forum on Facebook. Make sure you join and feel free to ask your questions regarding moving to or living in the Mother City. There is always someone there to share insights and experiences and get you the info you need.

Regina