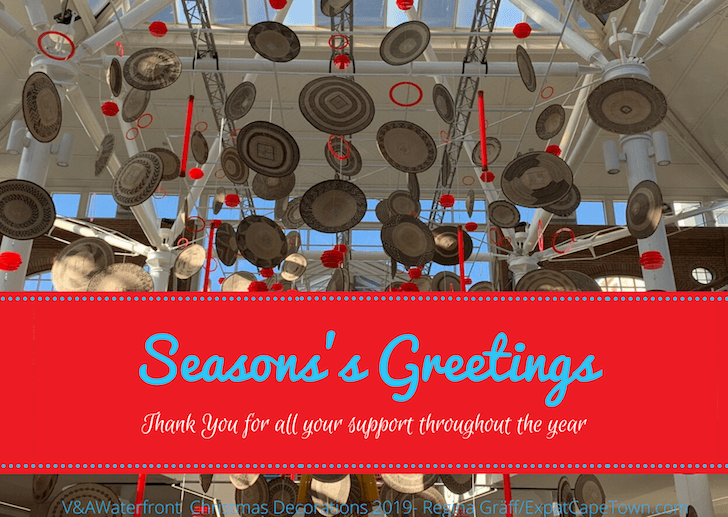 Dear all,

I hope this edition of the ExpatCapeTown newsletter finds you all well and happy - and in a festive mood.

A lot has happened this year and although it has been quite a while since I sent out my last newsletter, I still want to wish you and your families a very happy festive season.

As I had decided to go on a sabbatical to do more research and find 'a new purpose' especially in regards to the expat guide. Finally, I feel the time is right to share the good news with you. We will continue living in beautiful Cape Town, the city and its people are in our hearts and Cape Town is what we call 'our home'. However difficult life might seem at the moment - and load shedding is certainly disarranging many people's plans, I know that I will concentrate again on my biggest passion in life which is educating the next generation. A while ago, I have started a project that is close to my heart and next year I will put all my energy in making this venture fly.

The ExpatCapeTown and Living in South Africa websites will still remain an important and dear part of my life and I will continue to update the pages as much as possible to provide meaningful, relevant and updated information for our readers. I will be always grateful to all of you who accompanied our journey so far and helped to cover at least part of the cost to keep this project alive for the last ten years!

ExpatCapeTown always was intended to be a platform to share the good news and give back. As we love to travel and learn from others, we share our own insights with all who plan to settle in Cape Town and so do many of our generous readers and group members - they share openly and freely. South Africa made us feel welcome and we continue to see lots of potential for this awesome country. However, as we are here now for more than 15 years, we do not feel as foreigners in this country anymore. And a lot has changed over these years for newcomers to Cape Town as well! Information about the city and expat life is widely available now and there are a number of platforms providing services to the expat community.

I will keep involved in the ExpatCapeTown and South African visa forum groups which have grown to such a wonderful community through all your insightful and helpful contributions and therefore will keep you all updated again through further newsletters which I will be sending out again - in a renewed format - from the beginning of February.

For 2020, I envisage to create a stronger community through more personal connections. So if you are interested to join my future path and collaborate I'd love to hear from you. Let's share our hopes, compassion, love and care for each other. As the African proverb says:

"If you want to run fast, run alone, but if you want to walk long, then walk together'
Festive Season in Cape Town
Please note for Visa Matters: The offices of VFS in South Africa will be closed for visa submissions over the festive period. Last day of submissions is 19 December, they will be open on 20 December and 27 December, 2 and 3 January 2020 - strictly for collections only. They only will be open for submissions again from Monday 6 January 2020. Please refer to the VFS website for further info.
Read more on our site's immigration guide, should you intend to immigrate or work and travel to South Africa. Find out more here:
South Africa Immigration Guide 2019


Festive Season Events: There are many events happening in Cape Town this festive season as you will see on our ExpatCapeTown event calendar.
Events in December 2019

New Year's Eve Events

Events in January 2020

Events for Kids: School Holiday Activities


Expat Cape Town Insider Tips


Join our Facebook group and make sure to like our ExpatCapeTown Facebook Page. Take note: No ads in the forum allowed and please make sure to read our pinned post:-) Thanks!



If you need more tips on settling in South Africa, order our e-book or the original soft copy version of our expat guide: 'Living in South Africa' and find out why we love living in this beautiful city. Our 'Living in South Africa' expat handbook is filled with practical tips and the e-book is available in .pdf and .epub form. Living in South Africa e-book



Have a wonderful Christmas and a fabulous start into a happy and prosperous 2020! And enjoy your life wherever you are!

Best regards,

Regina

w: www.expatcapetown.com t: @expatlivinginsa | #expatcapetown f: Expat Cape Town | LivinginSouthAfrica