Threads of Africa Project 2011
Cape Town Gold of Africa Museum
Exhibition: The Earth is watching us
"The earth is watching us" by Threads of Africa is an exhibition of bowls and bangles woven from fine materials such as gold, silver and copper which comes to Cape Town's Gold of Africa Museum in February 2011.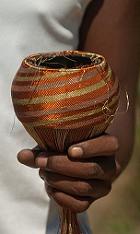 The Threads of Africa project supports a rural community from the Thukela (Tugela) Valley in Kwa-Zulu Natal working with the project curators to produce no more than six pieces of each design, contributing further to their collectable nature and high value.
The resulting pieces are very impressive and range in price from R2500 for a bangle to just under a million Rand for a gold bowl.
This special project has seen the development of an entirely new art form – bowls and bangles handwoven from a material so rare that it had to be created specially for the project – gold wire "thread".
Picture: Threads of Africa: Mgongo Ngubane holds a bowl made from 18-carat gold and copper thread. Photo by: Rauri Alcock
About the Threads of Africa Project
The project is a collaboration between Mdukatshani Development Trust, which is based in the Thukela (Tugela) Valley in KwaZulu-Natal, and Julia Meintjes Fine Art.
It dates back to 2002, when Julia was approached to assemble an art collection for a Sydney-based company, RFC Corporate Finance, which has clients in the South African mining industry.
With a view to creating a relationship between the two continents, Julia aimed at combining an indigenous Australian painting with South African objects that hinted at mining or associations with the earth. When the company MD saw a bowl woven in copper by an artist from Mdukatshani, he asked whether a similar bowl could be made with gold wire, and an idea was born.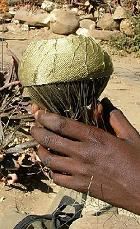 It took over two years and the surmounting of many technical, creative and logistical puzzles before the first small 18-carat gold bowl was completed by Mzo Dladla in 2005.
This bowl (which has been brought back from Sydney especially for the exhibition) was followed by others, some again in gold, some combining 18-carat gold with various coppers, silver, brass and shakudo (a Japanese alloy of two to seven per cent gold mixed with copper), as well as bangles in the same materials. The exhibition displays a range of these pieces.
Picture: Threads of Africa: Mzonzima Dladla showing the first 18-carat gold bowl (2003-5), RFC Collection, Sydney. The bowl was started in the Thukela Valley and completed in Johannesburg. The pot over which the bowl is woven, to be removed when complete, can be clearly seen. Photo by: Rauri Alcock
Challenges the Threads of Africa Project faced

• A manufacturer had to be found that could create high quality gold wire in small quantities especially for the project and comply with the strict regulations in terms of handling this metal. Note that all metals used by the project are legitimately sourced.
• The weavers live in rural KZN. Most had never been to a city before, and the project has opened their eyes to a world unimagined. They travel to the City of Gold – Egoli – only when they weave their gold wire creations, which takes them for a while from the security of their families to the often daunting big city life.
• It requires great skill and patience to create the bowls. Weaving starts from the top (unlike a grass basket), using a clay pot or ukhamba as a 'skeleton'. Bangles are woven over bottles.
• Every ukhamba is unique. When more contemporary forms were required, Christina Bryer, a ceramic artist with jewellery training, offered to produce ceramic moulds which could be used for creating precisely calculated designs. The first bowl for the project took eleven hours to thread because the design had to be so precise. New forms are constantly being developed and tested.
• An experienced weaver may only progress one centimetre or less a day, depending on the intricacy of the design and the size of the bowl or bangle. The correct tension is vital to ensure balance and proportion, and is complicated by the fact that each metal has a different density, even if the wire is the same thickness. To widen or decrease the shape, strands have to be added or removed, while maintaining the intricacies of the design.
In 2008, the weavers produced an edition of six specially designed bowls for the University of Stellenbosch to present to select donors, and the project was formally named Threads of Africa.
Echoing this beginning, Threads of Africa will make designs in limited editions of six, each documented and numbered. Specific commissions/designs will be produced if required.
The bowls will be shown alongside old African terracotta pots, on loan from the Social History Collections of Iziko Museums, which emphasise the ancient working relationship between potters and metalworkers in Africa.

The bond between the two is fire: both need it to complete their work. The blacksmith's skill in harnessing fire to create his ploughs and spears made him a powerful figure within the community. For instance, in western Sudan even today, the blacksmith's wife is often the potter for the community.
A similar harmony of potter and metalworker exists between the weavers and local potters who make each ukhamba used by the weavers as the base for their bowls – pots that have to be broken to liberate the metalwork from its earthen base. An echo of this is the shard that is left in the metal bowl – udengezi is its Zulu name - a fragment that is used to burn aromatic twigs when communicating with the ancestors.
The weavers' work evokes the lost history of the legendary Mapungubwe, a World Heritage Site located on a hilltop near the Limpopo River.
Mapungubwe has been dated to AD 1220 (earlier than Great Zimbabwe) and here the renowned golden rhino was unearthed alongside gold wire bangles and other examples of the ancient metalsmiths' skill.
An interesting connection across the centuries is that gold bangles and anklets found at Mapungubwe are identical to silver bangles and anklets worn by the weavers at their own community's ceremonies today.
Pictures in the upper clipboard show: 1. Threads of Africa: Women balancing copper reels on their heads. Photo by: Rauri Alcock, 2. Threads of Africa: Mgongo Ngubane works at home on a copper and shakudo bowl. Photo by: Rauri Alcock, 3. Threads of Africa: A Zulu woman wearing woven bangles made from copper, 18-carat gold and silver wire. Photo by: Rauri Alcock, 4. Threads of Africa: Sithelephi Mtshali – she is measuring off the copper wire she needs to weave her next item, by winding it around her toe to stop it getting tangled and to get the correct length. Photo by: Rauri Alcock
Pictures in lower clipboard to the right show: 1. Threads of Africa: Mzonzima Dladla – The first 18-carat gold bowl (2003-5), RFC Collection, Sydney Photo by: Rauri Alcock, 2. Pot on loan from Social History Collection Iziko Museums. Photo by: Michael Hall Photography, 3. Threads of Africa: 18-carat gold wire being woven into a bowl. Photo by: Rauri Alcock, 4. Unknown Phalaborwa potter, Limpopo Province, collected 1908. Pot on loan from Social History Collection Iziko Museums. (SAMAE 11831) Photo by: Michael Hall Photography
Exhibition Details: The Earth is watching us
Where? Gold of Africa Barbier Mueller Museum, 96 Strand Street, Cape Town, Tel. 021-4051540.
When? February 3, 2011 - March 31, 2011. Mon – Sat 9:30h – 17:00h
Parking? Corner Strand and Buitengracht Streets
Entrance Fee? R30.
There is a catalogue for the exhibition, and all works by the Threads of Africa project are for sale.
"Still, the dark red, orange, umber, or mineral landscape is stretches before us like the foreshadowing of a vision. [...] The burnished terracotta of the pots reflects the light [...]. The texture of each vessel's surface is equal to our own. For the earth is watching us..."
(Nimrod Liane: Poet and philosopher, born in Chad 1959, writing about African pots in Terres cuites africaines, un héritage millénaire - Musée Barbier-Mueller and Somogy éditions d'art)
Please see also www.threadsofafrica.co.za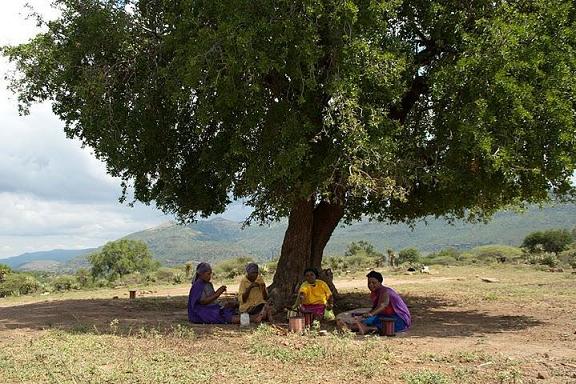 Picture: Threads of Africa: A group of women working in the shade of a tree. Photo by: Rauri Alcock
Source: Rabbit in a Hat Communications


Return from Threads of Africa Exhibition to ExpatCapeTown Homepage