Helen Zille
A Cape Town Celebrity
Helen Zille for president? Well, that is up to you to decide. To get you some information on this Cape town celebrity, read on this page a short biography of the Premier of the Western Cape and former Mayor of Cape Town.
Ms Zille is a leader with great vision. She is focused and inspires great confidence. She would certainly make a great President in South Africa. —www.worldmayor.com
This lady is surely a remarkable and inspiring South African who was elected Western Cape Premier in the elections 2009 after managing to unite the posts of mayor of South Africa's third largest metropolis and leader of the opposition party DA. She is a hard worker and focused on eradication of poverty and drug abuse.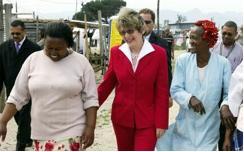 Title and Recent Achievements
Mayor of Cape Town 2006-2009
Voted "Newsmaker of the Year 2006"
Leader of the Democratic Alliance since 2007
Voted "Mayor of the world" in October 2008
Nominated Premier of the Western Cape 6 May 2009
Biography
Helen Zille was born in Johannesburg: 9.3.1951, married, two sons
Her parents fled Germany during the war and went to England. From there they immigrated to South Africa in 1948.
Helen Zille is the great-niece of the famous German lithograph and caricaturist Heinrich Zille who lived in Berlin/Germany (1858-1929).
Education
Bachelor of Arts from the Witwatersrand University
She speaks English, Afrikaans, Xhosa and German
Work, Jobs and Achievements
Helen Zille worked as a journalist at the Rand Daily Mail where she gained her reputation as political journalist and anti-apartheid critic when researching the death of human-rights activist Steve Biko in Pretoria 1977.
She was a political activist in various committees like the White Women's Anti-Apartheid Movement Black Sash, South Africa Beyond Apartheid Project and Cape Town Peace Committee.
From 1993-99 she worked as Director of Communications at the University of Cape Town
After that she was minister for education in the Western Cape Parliament from 1999-2001, and leader of the opposition in the Provincial Legislature.
In 2004 she was elected to the National Parliament. Two years later she was voted to become leader of the Opposition Party "Democratic Alliance".
In 2008 the international committee of City Mayors ( who is this? ) voted for Helen Zille as the winner of the Best Mayor in the World-Award.
If you want to learn more about our Western Cape premier and her fight against poverty and crime in Cape Town, her plans for the future of Cape Town, transport and living conditions in the Mother City read on her easily readable and interesting answers to readers' questions regarding her World Mayor Award here.
At the recent 2009 elections in South Africa, the opposition party DA won over the seat of the Western Cape premier with a the majority of 51.23% of votes received in the provincial elections.
In May 2009 Mrs Zille resigned from her office as Cape Town Mayor and handed over her post to the new Cape Town Mayor Dan Plato and moved in the Western Cape premiers office which was handed over from the former Western Cape premier Lynne Brown of the ANC.
---
Above picture courtesy of helenzille.co.za.
To read a more detailed portrait go to Helen Zille's new homepage. However this site is currently getting updated so it will lead you to the Wikipedia page or go straight to the DA website which you will find at www.da.org.za.
---
Back to Cape Town Information

Return to ExpatCapeTown Homepage