Cape Town Festival of Words 2010
Fusion of poetry, drama and storytelling
Filmaker, playwright, author and poet Zulfah Otto-Sallies presents the inaugural Festival of Words.
The Festival of Words 2010 is a showcase of poetry, drama and storytelling brought together in the fusion play "The Secret of Words".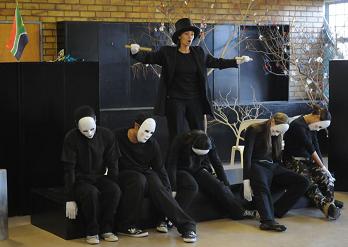 The Secret of Words
The Secret of Words is a fusion play that explores the journey towards becoming human.
The play uses mystical poetry from renowned master poets Rumi, Hafiz, Kabir, Gibran and others, as well as local poets to paint this canvas of humanity.
Movement and drama accompanies one on this quest to discovering the meaning of being human.
Award-winning South African filmmaker Zulfah Otto-Sallies has taken this broad spectrum of poetry and woven it into a lyrical tale which provides an enthralling commentary on the human condition.
Through The Secret of Words, Zulfah and her cast offer a space where an inner transformation is allowed to happen both for the artists and the audience. The production explores new horizons beyond the normal to expand the scope of readers, poetry and theatre lovers and seekers on their personal internal quests.
Zulfah and her talented cast invite you to feed your soul with thought-provoking drama and poetry.
Audiences can look forward to the mystical poetry of such renowned Master Poets as Rumi, Hafiz, Kabir, Gibran and others, as well as work from local poets.
Cape Town Festival of Words: Rumi and other poets
RUMI 1207 – 1273 AFGHANISTAN / TURKEY
Jelaluddin Rumi, the 13th century mystic poet, was truly one of the most passionate and profound poets in history.
Today his presence still remains strong, due in part to how his words seem to drip of the divine, and startle a profound rememberance that links all back to the Soul-Essence.
Rumi was born in what is present day Afghanistan in 1207, he produced his master work the Masnawi which consists of over 60,000 poems before he died in 1273. The best way to fully say in words his impact, is that he has the ability to describe the Indescribable, Ineffable -- God.
In 2007 Rumi was the best selling poet in the United States that is more than 800 years after he was alive.
UNESCO decided to be associated with the celebration of 800th anniversary of the birth of Mevlana Jelaleddin Rumi during the year 2007.
Other great Poets whose poetry will be celebrated in The Secret of Words:
Shabistari (1288 – 1340) PERSIA Mahmud Shabistari was one of Sufi's greatest poets of the 14th Century.
EMRE (1238 – 1320) TURKEY Yunus Emre is considered by many to be one of the most important Turkish poets.
HAFIZ (1310-1325)IRAN Hafez was an Iranian mystic and poet.
JAMI (1414 – 1492) AFGHANISTAN / PERSIA Nur ad-Din Abd ar-Rahman Jami (Persian): August 18, 1414–November 19, 1492) was one of the greatest Persian poets in the 15th century and one of the last great Sufi poets.
KABIR (1398 – 1448)INDIA Kabir is among the greatest figures in Indian religious and literary history.
Kahlil Gibran (1883-1931) LEBANON /USA Kahlil Gibran, a poet, philosopher, and artist who was born in Lebanon.
More Festival of Words 2010 - Information
Where? Cape Town SABC Auditorium
When? May 28 until June 6, 2010
Preview: Wednesday 26 May at 20:00, Premiere: Friday 28 May at 20:00, Thereafter Saturday, 29 May to Sunday, 6 June: 20:00 Matinees: Saturday & Sunday at 15H00
Tickets for the Festival of Words: R100/R60 for students (Monday to Thursday and matinee Saturday & Sunday) and R85 for Block bookings 10 or more. Bookings via www.computicket.com
Workshops for local high school students will be held at the Auditorium on May 27, 2010 from 10am to 1pm.
All Information on this page supplied by Naahid Nakidien.
For discounted schools, corporate bookings, charities and fundraisers and more information please contact Naahid Nakidien on naahidn@telkomsa.net or call 072 88 30 658 or Faiz Davids on 0728711664
A sip from the Secrets of Words
The opening scene is one of a world at war. Soldiers under the rigid command of their sergeant, follow orders without question, until one dares to challenge this.
How is it possible to remain human in a world constantly at war with itself? What impact do war and power have on humanity? The great battle lies within. How do we respond to the anger coursing through our veins? What to do with the broken heart, the lost love? Where do we place this constant turmoil that is at war with oneself?
We resist, we protest, we blame, we put others to shame, What if? Why me?
Surrender to the world, go with the flow and be enslaved by your own commercialism. We are puppets on a string. Words echo in our minds. The battle intensifies.
We dare to become intoxicated, drunk with the possibility of love. Taking those first sips of wine from the cup of love. The insanity, the pain, nothing seems real, this love. A madness that finds love in all things. The disappointment, where to find allies.
On our quest we continue to search for humanity. On our journey we meet the racist, the judge, the thief, the pretentious humans, the imposters.
How do we embrace differences? We listen to the music within, join the orchestra of the universe, playing the tune of universal peace. Lifting the veils of the unknown, taking the first steps on the journey to finding ourselves.
"A sip from The Secret of Words": supplied by Naahid Nakidien
Back from Festival of Words to Cape Town Events in June 2010

From Cape Town Festival of Words to ExpatCapeTown Homepage