Dantonio Goodman
South African Michael Jackson Impersonation amazes the audiences
Dantonio Goodman, singer and dancer in the latest Disco Nights Shows wows the Cape Town audiences with his incredible impersonation of the king of pop Michael Jackson.
His outstanding performance as the King of Pop with hits Rock With You or Wanna Be Startin' Something and his rendition of Billie Jean amazes the audience at Cape Town's New Space Theatre.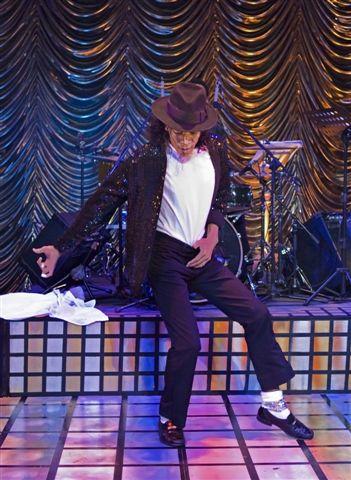 Goodman's impersonation of the pop legend is thought through to the very last detail, so his performance is complete with the typical hat, jacket and sequined glove. And also the moonwalk will not be left out. Michael Jackson impersonation just as we loved him and he is in our minds.
Who is the Dantonio Goodmann
The talented Goodman, born and bred in South Africa is currently based in Johannesburg, but wowed the audiences in Cape Town also with his last big show.
Recently he starred also in "The Rat Pack" in Cape Town. His performance in this show earned him raving reviews with his impersonations of Sammy Davis Junior.
So make sure you get tickets for the final week of "Disco Nights" at Cape Town's New Space Theatre.
More info on this Cape Town Show "Disco Nights".

Return from Dantonio Goodman to Cape Town Events in September 2009