Danscape 2011
Brilliant Jazzart Dance Show
In Danscape you will see some of South Africa's most talented young dancers in July. They will perform in Cape Town's biggest Theatre venue, the Artscape complex, in Jazzart Dance Theatre's annual celebration of dance.
Cape Town Dance Showcase
This year's production sees the combined talents of Cape Town's top dance schools and companies, including Dance For All, the Cape Academy of Performing Arts, iKapa Dance Theatre, the Vadhini Indian Arts Academy, La Rosa Spanish Dance Theatre, the Wilvan School of Dance, the Sibonelo Dance Project and the Cape Youth Dance Company 34/18.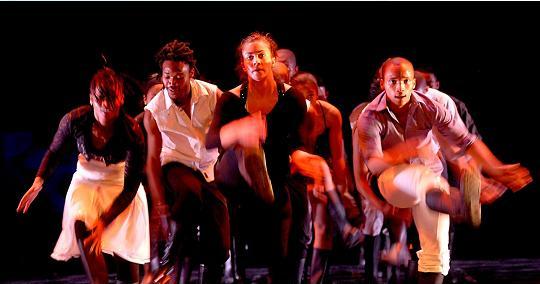 The Cape Town artists will be joined by dancers from the Durban-based KwaMashu School of Dance Theatre who will make their debut at this annual Cape Town event. They are dedicating their dance performance to choreographer and former Jazzart dancer, Sbonakaliso Ndaba.
Dance Show in Cape Town
Audiences can look forward to innovative new works incorporating contemporary, modern, Spanish and traditional Indian styles as well as an exciting collaboration between dancers from La Rosa and Wilvan when they perform together for the first time.
Since 1999 Danscape at Artscape provides a platform for up and coming dancers and choreographers to showcase their talent and also serves as a fund-raising initiative to raise awareness and funding for the many community arts projects that Jazzart has running throughout the Western Cape
Who is Jazzart?
Jazzart, the oldest contemporary dance company in the Cape, was originally devised the annual dance showcase as a springboard for young people wishing to launch their careers in the entertainment and arts industries. The annual event raises funds for young people wishing to follow careers in the arts.
"This season continues Jazzart's decade-long tradition of growing influential dancers and nurturing innovative young dance-makers, but imbues it with a fresh approach whereby past performers explore and experiment with their own 'voices' as dance-makers and choreographers," as artistic director Jackie Manyaapelo explained.
In keeping with this tradition, Jazzart will be awarding a percentage of ticket sales to one particularly talented participant. This award is designed to acknowledge the dedication of Danscape participants and also demonstrates Jazzart's on-going commitment to advancing the medium of dance in communities throughout the Western Cape. More info on the dance theatre at www.jazzart.co.za.
More Details on the Jazzart Shows
When? July 7 – 10, 2011. Evening Shows Thursday till Saturday at 20.15h as well as matinees at 15.00h on Saturday and Sunday. Sunday Evening Show starts at 18h.
Where? Artscape Theatre in the Cape Town CBD
How much? Tickets are R65 with concessions for bigger groups. Enquire at Artscape's Dial-a-Seat on 021 421 7695 or computicket.
Source: CPR Communications, thanks to AJ Aupiais for the info.
Return from Danscape to Events 2011

Return to ExpatCapeTown Homepage