Want to read a different Cape Town Thriller?
When in Broad Daylight I Open My Eyes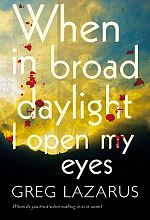 The recently published Cape Town Thriller "When in Broad Daylight I Open My Eyes" by Greg Lazarus is a psychological thriller set in a familiar yet sinister Cape Town.
Thrillers may not be my cup of tea, but I am sure some of you like will enjoy reading this new book by the Cape Town writers. Therefore I do want to share the following news release about this Cape Town thriller with you.
It explores, in evocative and erotic fashion, the ways in which people prey on one another. The novel explores the aftermath of psychologist Maria Petros' mother's sudden death, and the disturbing questions she confronts.
What is the secret society that her mother frequented? Who is the philosopher Maria meets in a therapy session, and why is he pursuing her with such vigour? As she delves into her mother's strange life, she finds herself seduced and facing grave danger.
Published in April 2012 by Kwela the thriller has already received numerous positive reviews.
About the Authors
Greg Lazarus is the pen name of husband-and-wife writing duo Greg Fried and Lisa Lazarus, who launched the novel three years after they first put pen to paper.
Greg is a philosopher at the University of Cape Town and holds a PhD from Trinity College, Cambridge.
Lisa is a psychologist and freelance writer. Their careers as a psychologist and philosopher mirror the occupations of the novel's main characters. When reflecting on their joint writing process they said, 'Writing isn't usually one of the things we fight about – maybe we listen to each other better when it comes to fiction.'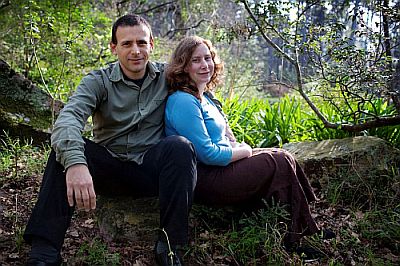 Lisa and Greg, like the internationally popular Nicci French, also a husband-and-wife team who write psychological thrillers, say that they 'love exciting, tense novels, where the stakes are high'. They add: 'We also admire fiction in which the complexity of people – our contradictory desires, our mixture of goodness and malice – is taken seriously, as well as novels that explore fundamental questions such as how a person's worldview influences her life.'
When in Broad Daylight I Open My Eyes is their second writing project – the couple have also co-written the memoir, "The Book of Jacob: a journey into parenthood" (Oshun, 2009).

Cape Town Thriller Book Reviews
Cape Times: A 'tight and sinister novel,' wrote book editor Karin Schimke, who was 'locked in by page two.' Of a main character, she wrote: 'Kristof, who is urbane, polite, gentle, learned and funny, also immediately starts to make the reader's skin crawl....'
www.leweekly.co.za: '…a good old-fashioned keep you up all night, make you check twice under the bed and three times behind the curtains, whodunit psychological thriller. It's set in a Cape Town rendered so gritty and edgy that you'll wonder why Hitchcock didn't set all his films here. It'll make you suspect everyone you've ever met is a psychopathic, kleptomaniac mass-murderer. And it'll make you want to arm yourself to the hilt every time you're within a mile of Newlands Forest.'
Crime Beat review: '…explores ideas of appearance and reality, knowledge and mysticism, experience and identity through a group of characters that draw you in and make you begin to take another look at the seemingly mundane people around you in the supermarket. … Like watching a tightrope walker high above you, Greg Lazarus succeeds in writing a novel that disturbs as it thrills, exploring the fine line between desire, obsession and violence.'
Heat magazine named When in Broad Daylight I Open My Eyes as one of its three books of the week.
Khuluma Magazine: 'When in Broad Daylight I Open My Eyes is a sexy, intellectual and gripping page-turner, and it will make you view Cape Town in a more sinister light, where nothing is as it seems and the people you come into contact with daily could be sadists or sociopaths…'
Sunday Times Fiction short-listed author, Henrietta Rose-Innes: '…pacy, suspenseful, gripping, at times shocking, at times hilarious…'
Source for Cape Town Thriller: Thanks for Shafeeka Anthony from Rabbit in a Hat Communications for the info