A very warm welcome to the ExpatCapeTown Newsletter

Dear all,
the last weeks have been quite exciting for us launching our new book. Our guidebook 'Living in South Africa' is now available in most South African bookshops and online at Kalahari.com or from us directly. You can get the book at Exclusive Books, Bargain Books, Wordsworth book shops, the German bookshop in Burg Street, Baraka in the Cape Quarter and many other stores.
As much as it is wonderful to see how many people love living in this beautiful country as difficult it seems to be regarding doing the right thing regarding the new immigration rulings which were introduced in the last week of May. So this month started out with quite a challenge for many of us. We received so many queries regarding the new immigration regulations that were recently announced and unfortunately a number of you seem to be stuck especially with the upcoming school holidays at the end of this month. Dealing with the Department of Home Affairs was never easy, and now many expats seem to encounter even more red tape than ever before.
We thank you for your stories and insights and hope this dilemma resolves soon, so you again can enjoy living here. Please continue sharing your ideas and tips and from our side, we will endeavour to bring you more great tips about expat life in Cape Town.
Enjoy and have a great time in Cape Town or wherever you are!
This is what you will find in this newsletter:
* What are the new immigration regulations about?
* What's on in Cape Town in June: South African book fair and other events
* Typical South African: 'toyi toyi' and 'mielie'
* Cape Town Insider Tips: Know where to go…?



The new Immigration Regulations
On 26 May 2014, new immigration regulations were introduced in South Africa. Visa applications will not anymore be handled directly by the offices of the Department of Home Affairs in South Africa as VFS Global was appointed to establish and manage a call centre for the Department of Home Affairs to assist clients with relevant enquiries and applications.
Under the new regulations, the term 'visa' replaces the term 'permit' except for the permanent residence permit. Temporary residence 'permits' will be in future referred to as 'temporary residence visas'. Further, first time applications for visa must be made at the foreign mission in the country of origin or where the applicant permanently resides. Only renewals or extensions within the same category can be made in South Africa.
Further changes to the immigration regulations are:
- Quota Work permit and exceptional skills work permits have been repealed, however a critical skills work visa has been introduced.
- Intra-company transfer work visa will be issued for a period of four years.
- Persons who overstay their visa will be declared as undesirable persons and will be 'banned' from re-entry for a period of 1 to 5 years.
- Persons issued with a business visa must prove that 60% of the total staff complement is South African citizens or permanent residents.

Read more about the new regulations here.


What's on in Cape Town?
There is lots going on this June as you will see also on my site's event calendar.
For us, the most exciting event certainly will be the South African Bookfair which will take place at the CTICC from Friday 13 June until Sunday 15 June 2014. We look forward to seeing you at our stand P17 - Awesome SA Publishers.
Remember also that Monday 16 June is a public holiday, Youth Day. So another lovely long weekend is ahead of us.
Now that winter has arrived in Cape Town and the days are now definitely colder, we will expect some more snow on the mountain tops. Driving over DuToitskloof pass was spectacular with snow this last week. And with some blue skies, winter is enjoyable here! There are lots of great places also where you can keep warm in winter, make sure you dress in layers, as when the sun comes out, it really does not feel like winter (well to us who come from a cold European or American winter anyway).
And do not forget to check out my special pages on:
The Best Events in June 2014

Cape Town Book Fair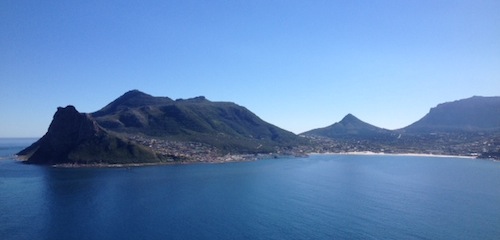 Hout Bay from Chapman's Peak Drive, May 2014



Typical South African terms
What means 'toyi toyi'? The word is used to describe a dance of protest or celebration. Often used when people take to the street demanding better service delivery from the government.

What is a 'mielie'?Mielies are staple food for many South Africans. Mielie is in English referred to as 'corn', often also put as corn on the cob on the 'braai'.


More South African Slang words here.

Cape Town Insider Tips
Do you love living in South Africa? Join our new Facebook group 'Living in South Africa', visit us at the South African book fair and share your insights. Also please have a look on our new website which shall bring you lots of information on moving to, working and living in South Africa. LIKE our new group on facebook. Post your photos and share your insights. All comments welcome!
Join the our new group here and click 'Like'.
Do you love wild mushrooms? Go for a wild mushroom hunt in the forest at Delheim Wine Estate. This special event takes place on 16 and 17 June in Stellenbosch. Contact the wine estate and register at info@delheim.com
Do you want updates on great travel tips and be up-to-date with specials? You will find great travel tips in this wonderful South African travel magazine with latest reports, special insights, interviews, reviews and so much more. Enjoy! Go the TravelMagSA here.

What's coming in the Next Newsletter?
As ExpatCapeTown wants to bring you the most up to date stories and insights, please be patient and let me surprise you with more great news about the Mother City.

Just be assured, there will be lots of more great tips and advice, so be sure to subscribe my newsletter and take a look at my website which is ever expanding.

Please come back with more great tips from your site, all kinds of comments very welcome! Contact me here.

Remember, if you need some advice urgently or want to share some amazing experiences, it is always a good idea to get in touch with the many friendly expats in our Expat Cape Town forum on Facebook. Make sure you join and feel free to ask your questions regarding moving to or living in the Mother City. There is always someone there to share insights and experiences and get you the info you need.

Regina