A very warm welcome to the ExpatCapeTown Newsletter

Dear all,
As the year draws to a close, we want to send you our Season's Greetings and our best wishes for a happy and prosperous new year. We wish you all the best for all your endeavours for 2015.
This is a very special time of the year, where we all regardless of faiths, ethnic backgrounds or beliefs, join in a season of goodwill. The message of Christmas is to share our hopes, compassion and love and care for each other.
* Thank you for reaching out with a helping hand also to the less fortunate in our communities.
* Thank you for all your volunteer and charitable work which makes a huge difference to many.
* Thanks you for your tolerance and support which means so much to all of us!
Enjoy the festive season and have a great time in Cape Town or wherever you are!


Festive Season in Cape Town
Wednesday 24 December is 'Christmas Eve'. The shops close early on this day, as Thursday, 25 December, is celebrated as Christmas Day by the majority of South Africans and is a public holiday. 80% of all South Africans are Christians and Christmas is a family celebration for most. The following day, 26 December, is also a public holiday and is referred to as 'Day of Goodwill' by South Africans.
Wednesday, 1 December, is 'New Years Eve'. Then many shops will close early and on 1 January, many shops will stay closed. New Years Eve is celebrated with fireworks at the V&A Waterfront and some suburbs have designated locations where people can do their own fireworks. Be aware that in South Africa it is not allowed to light your own fireworks displays in your garden or on the streets as is done in many cities overseas.
There is a lot going on in December and January in the Mother City, as you will see also on the ExpatCapeTown event calendar.
Read more on great events during: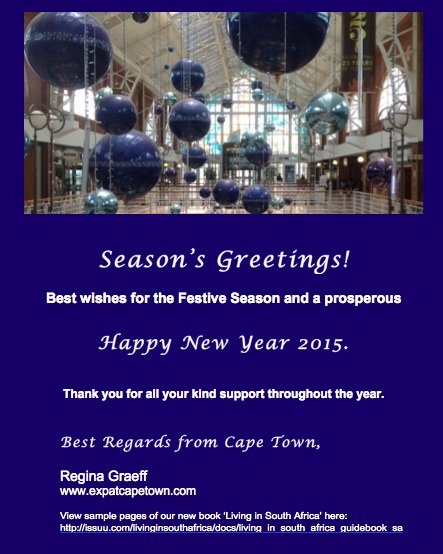 Typical South African terms
What means 'mzansi'? This word means 'South Africa' and refers to all people living in the country regardless of race, beliefs or backgrounds.

What mean 'jol'? An expression to describe a good party or a good time. 'Having a jol' means having a great time.


More South African Slang words here.

Cape Town Insider Tips
Still new in Cape Town? Then join our Facebook group and make new friends. Our Expat Cape Town facebook group is a wonderful group of expats and locals sharing insights and tips for living in this beautiful city.
Please keep sharing your ideas and tips while we will bring you more great tips about expat life in Cape Town on our blog and in this newsletter. Make sure to bookmark our websites www.expatcapetown.com and www.living-in-south-africa.com to receive updates and news regarding expat life in South Africa and join our Facebook forum to be always up-to-date and ask our vibrant and always insightful expat community in Cape Town.
And last but not least a huge thank you to all who so generously supported us in spreading the word about our new guidebook 'Living in South Africa' which has been received very well by the international expat community, local and international companies and universities as well. The South African book fair has been a huge success and our practical expat handbook is now available country wide as well as in many bookshops overseas. You can get the book at Exclusive Books, Bargain Books, CAN, Wordsworth book shops, the German bookshop in Burg Street, Treasures4U in Paddocks, Baraka in the Cape Quarter and many other stores.
Join our new Facebook group 'Living in South Africa', post your photos and share your insights. Also please have a look on our new website which shall bring you lots of information on moving to, working and living in South Africa.
Join the our new group here and click 'Like'.

What's coming in the Next Newsletter?
As ExpatCapeTown wants to bring you the most up to date stories and insights, please be patient and let me surprise you with more great news about the Mother City.

Here just some hints about what you will find in the January 2015 newsletter:

* New immigration regulations coming into effect in 2015

* What's on in Cape Town: Beachlife in Cape Town

* Typical South African: More great South African slang words

* Cape Town Insider Tips: Know where to go…? Be surprised!


Just be assured, there will be lots of more great tips and advice, so be sure to subscribe my newsletter and take a look at my website which is ever expanding.

Please come back with more great tips from your site, all kinds of comments very welcome! Contact me here.

Remember, if you need some advice urgently or want to share some amazing experiences, it is always a good idea to get in touch with the many friendly expats in our Expat Cape Town forum on Facebook. Make sure you join and feel free to ask your questions regarding moving to or living in the Mother City. There is always someone there to share insights and experiences and get you the info you need.

Regina