Cape Wine Estates
Great wine events during Harvest Time
Are you looking for some great time out at some of the best Cape Wine Estates?
For a quick overview have a look at my Cape Town Wineries Guide here.
How about enjoying some great events during the Grape Harvest in the Western Cape?
There a lots of events taking place around harvest time in March, so have fun with grape stomping and wine tastings and enjoying the happy atmosphere in and around Cape Town.
Here are some Wine Estates around Cape Town which are worth a visit during Harvest time, and not only then...
Cape Wine Estates: Wine Harvest Events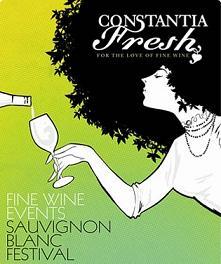 Constantia Fresh Festival: Wine Festival in the Constantia Valley
When? February 24, 2012
Enjoy the two-day lifestyle event in the beautiful Constantia Valley on the doorsteps to Cape Town. There are three events taking place during the festival. Booking essential. More info.
Ashton-Kelder Hands-on-Harvest
When? February 25 – 27, 2012
Head out to picturesque Ashton which is located a leisurely two hour drive east of Cape Town on the R62 in the "Valley of Wine and Roses" and join in the free wine tours and tastings as well as the free grape-stomping event on Saturday and Sunday. Or have a lovely Picnic under the Stars. Picnic Baskets for two including a bottle of wine or the most delicious grape juice at R120.Lots of great activities for the whole family and best of all they are free! More info.
Spier Harvest Festival
When? February 25, 2012
Eight, one of the restaurants on the popular wine estate will be transformed into a tasting lounge and a market with great food for that special picnic. There will be a grape stomping challenge and three bands will entertain with their music.
Fee: R60 including a glass of wine and five tickets which can be used either for wine, tastings or games. More info.
Vrede-en-Lust: De Savoye Harvest Diary 2012
When? February/March 2012
Read about a typical wine harvest in South Africa at one of the oldest wineries in South Africa. Vrede-en-Lust celebrates 324 years of wine making at the Cape! Find their interesting wine diary 2012 here.
Durbanville Wine Valley Feast of the Grape
When? Wednesday,March 21, 2012 (Public Holiday – Human Rights Day) with lots of events at the various Cape Wine Estates in the valley. Find the Festival Programme here.
Durbanville Hills: Festa dell'uva
When? March 21, 2012
Enjoy la dolce vita and have a great day out in the beautiful Durbanville valley at Durbanville Hills Wine Estate, which is only 15 minutes from Blouberg. With Italian music, wine tour and tasting, grape stomping and story telling. Firing of the cannon at 12p.m.
Fee: free, but wine tastings from R60
Hillcrest Wine Estate: Feast of the Grape
When? March 21, 2012
Market stalls and wine tastings and great music. At their fun French Festival the adventurous can even join the grape stomping at the Quarry.
Fee: free entry and free wine tasting, kids under 18 free, but small entry charge to the Quarry where some of the activities will take place.
Robertson Wine Valley: Hands-on-Harvest-Festival
When? February 24 – 26, 2012/ February 22 - 24, 2013
The third Hands-on-Harvest promises to be a hit with the locals and visitors again. 55 Cape Wine Estates offer free wine tastings and tours. With lots of other great activities in the beautiful Robertson wine valley and surrounding area. More info.
Wellington Wine Harvest Festival 2012
When? March 17 – 18, 2012
Entrance to the festival with Bain's Best Food & Wine Market and the 25 member wineries including all activities only with a wristband you have to purchase at the wine farms or the tourism office. No Wine tasting without wristband. Lots of fun activities like international potjiekos competition, chocolate and wine pairing and live music.
Costs: Wristband R80, kids under 18 free. More info.
Franschhoek Oesfees Harvest Festival 2012
When? March 24, 2012
Celebrate Harvest Times at Solms-Delta Wine Estate in the spectacular Franschhoek Valley in autumn. The wine and music festival will introduce you to some of the great local music and great local Cape food. From 9am until 9pm.
Costs: R110 for adults, kids under 12 free. More info.
Riebeek Valley Medfest 2012
When? March 31 - April 1, 2012
Not a true harvest celebration, but a great festival for everybody who likes Mediterranean food and drink. A mere 90 minutes drive from Cape Town a culinary feast awaits you in the beautiful Riebeek Valley. Many Cape Wine Estates from the Swartland and the Riebeek Valley take part in the event and offer their wines and local products, like olives, cheeses and bread for tastings. More info.
Please be advised that wine tastings and entry to the Cape wine estates usually is free, but you will usually have to pay and book for taking part in the wine-stomping events.
Still want to know more about great South African wine? Or are you travelling to Cape Town only later this year?
Then make a note in your calendar for this great wine event in August 2012.
Wines of Hermanus and Overberg: Wine Festival 2012
When? August 9 - 12, 2012
Head out to Hermanuspietersfontein Wynkelder at Hemel and Aarde Village in Hermanus for a wine tasting of some of the best wines the Hermanus and Overberg have to offer. One of the best wine festivals in South Africa! A great opportunity to spend a lovely weekend in the Overberg area. Winetasting from 5pm until 9pm.
Costs: tba. (In 2011: R50 for a tasting. Up to 100 wines of the region for tasting were on offer.) More info.


Back to Events Calendar 2012

Return from Cape Wine Estates to ExpatCapeTown Homepage